5 things I noticed in my first hours with the iPad Pro
Our iPad Pro was delivered yesterday morning, and while we're still working on the review, a few things became immediately clear.
But speaking of tricks, the two-finger trick in iOS 9, turning the keyboard into a trackpad for easier letter insertion, is easier here than on the iPad Air, since the cursor is bigger and easier to see. I also like tapping-and-holding on the keyboard-switching Globe icon to find the toggles for the emoji keyboard and predictive text option. (This menu will also show you all the third-party keyboards you have installed.)


I love how the keyboard has enough space to pack in extra functionality without having to switch views so often.
I even tried touch-typing in landscape mode, and found it surprisingly possible. Keeping my fingers on the home row of keys (ASDF and JKL;), I was able to type without looking at the keys, with fewer errors than I thought, thanks to auto-correct. It felt weird tapping on the screen with no feedback, but it was possible. If Apple can someday upgrade the software keyboard with Taptic Engine haptic feedback, this will be even easier.
4. Split View is my jam
I never tried seriously to use my iPad as my work machine for a couple reasons: My job's content management system didn't work so well in Mobile Safari and required a VPN, and I almost never work in one app at a time. Writing an article for Macworld can take several apps: Byword for composing, editing photos in Pixelmator, looking up facts and links in Safari, not to mention producing and publishing the article there. While I can use all those apps on an iPad, juggling them wasn't fun, and felt like it was slowing me down.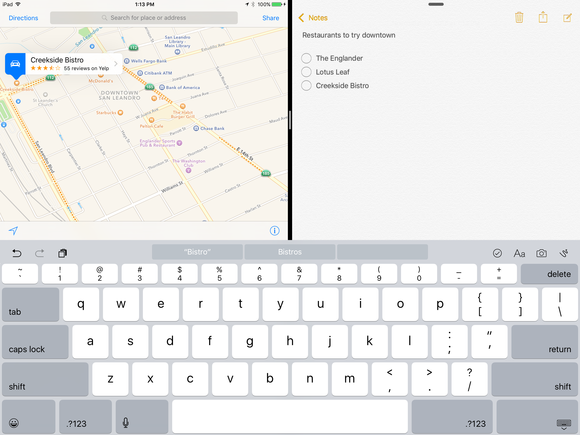 Split View rocks on the iPad Pro.
iOS 9's multitasking features, Split View, Slide Over, and Picture in Picture, all work on the iPad Air 2 and iPad mini 4, but they feel so much more at home on the iPad Pro. Running Byword and Safari side by side, I have about the same space in each than I had on my iPad mini's entire screen. And there's no delay in pulling out the Slide Out drawer, or expanding a Slide Out app's view to full Split Screen. Even Picture in Picture makes more sense here—Mail on the iPad Pro has enough free space for me to stash a smallish Netflix window without covering up too much.
5. It's not a hybrid. It's still an iPad.
Like I said, I'll be spending the next week or so using the iPad Pro as my main computing device, avoiding my trusty MacBook Air whenever possible. That means I'll be using the iPad Pro quite a bit while sitting at a desk—not my usual location for iPad computing. Because Windows 10 is designed to run on both tablets and laptops, our friends at PCWorld get to sample plenty of devices that are meant to straddle the line, hybrids that can act as laptops or tablets depending on how you swivel the screen or snap off a keyboard.
Previous Page 1 2 3 4 Next Page