5 things I noticed in my first hours with the iPad Pro
Our iPad Pro was delivered yesterday morning, and while we're still working on the review, a few things became immediately clear.
I think Apple should consider reimagining the iOS app grid—I like how Android does it, personally, but if we aren't comfortable admitting that out loud, let's say the new layout could be more Mac-like rather than more like Android. Let me put my most-wanted apps and folders (and dare I say widgets?) on the home screen, arrange them however I like, and keep everything else stuck in a drawer that can expand with a tap or swipe.
2. So much beautiful screen space!
Still, no iPad user spends much time gazing at the home screen. iPads are for apps, and once I opened an app, I was so glad to have the extra inches of screen real estate. Apps like Mail, Maps, News, Calendar, Photos, FaceTime—heck even the App Store—all benefit from the extra elbow room.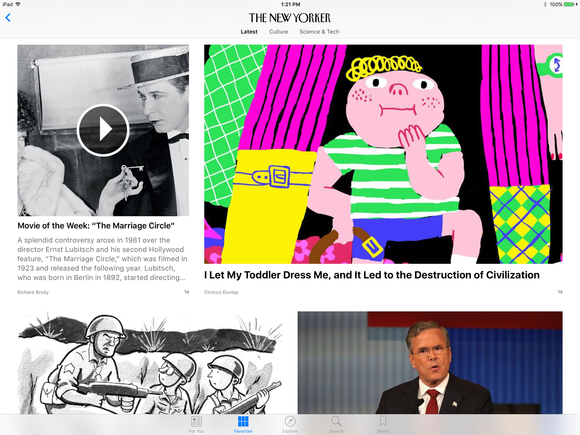 The News app looks particularly great on the huge iPad Pro screen. I'm still not a fan of reading it on the iPhone.
My usual iPad is an iPad mini, because I work on a MacBook Air and tackle away-from-keyboard stuff on my iPhone whenever possible. The iPad mini is just a fun "bonus" device, for gaming, shopping online, and watching video. So I was initially a little skeptical that I would find a faster iPad with a bigger screen that much more compelling, but even using the software keyboard that gobbles up a third of the screen leaves plenty of room for my content. Like many other reviewers before me, I'm planning to use this as my main work machine during the review period, and it was immediately clear that I'll find it so much easier to get things done, even viewing one app at a time.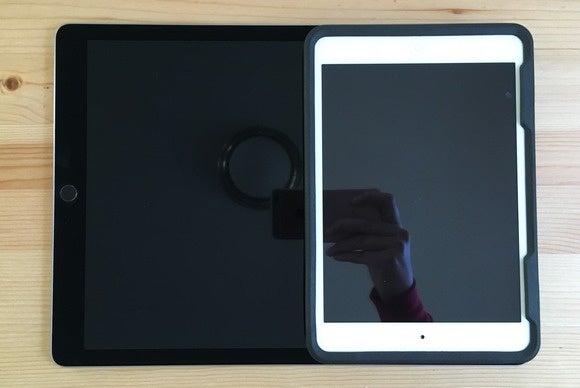 That's my white iPad mini 2 (inside a rugged case, no less) on top of the space gray iPad Pro. Double the screen space is nothing to sniff at! Credit: Susie Ochs
3. Best software keyboard ever
At first I was salty that the Smart Keyboard I ordered with my iPad Pro wouldn't ship for another week. (Apple sent us a loaner unit today, so I won't actually have to wait that long, and yes, I know what a privilege that is.) But this software keyboard is the best I've ever used, so I'll be able to struggle through without much struggle at all.
Like a good digital citizen, I use complex passwords full of letters, numbers, and symbols, even though that kind of password is harder to enter on my iPhone, requiring me to jump between the keyboards for letters, numbers, and symbols in a way I just don't have to on my Mac. The iPad Pro's software keyboard has a row of numbers and common symbols along the top of the letter layout, just like the Mac. Shortcuts even pop up per application—in Mail, the options to insert a photo or attach a file are handy to have right onscreen without any tap-and-hold tricks required to find them.
Previous Page 1 2 3 4 Next Page