5 things I noticed in my first hours with the iPad Pro
Our iPad Pro was delivered yesterday morning, and while we're still working on the review, a few things became immediately clear.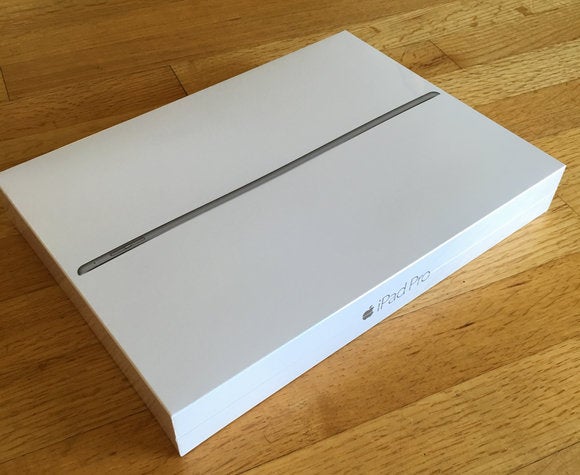 Credit: Susie Ochs
The iPad Pro is not something you can review in a couple of days. That's not because it's a new product category or even a dramatic reimagining of one—we've all used iPads by now, and more or less understand what kinds of tasks they can do and apps they can run. If anything, the iPad Pro represents a shift in workflow. The trick isn't what the iPad Pro can do, but how it allows you to do more with an iPad than you're doing already.
I'll be giving myself a little over a week to write Macworld's iPad Pro review, since it'll take some time to adjust to the iPad and evaluate what benefits and drawbacks it offers over my Mac. But from the moment I ripped off the shrink wrap and fired it up, I noticed a few things I wanted to share. Here are the five most striking impressions the iPad Pro made on me in the first couple of hours.
1. So much wasted screen space
Apple should really take this opportunity to rethink the classic "grid of square icons" we've had since the very first iPhone launched in 2007. My iPad Pro came with 32 apps preinstalled: four in the home row, 16 more on the first page, and 12 more on the second. The icons are huge, bigger than my own thumbnail, and they're spaced so wide that my index and middle fingers can fit comfortably between each one. In portrait mode, the iPad Pro screen can show five rows of four icons, plus the home row. In landscape mode, four rows of five icons. The home row can still expand to up to 6 icons, but it wouldn't feel crowded with more, assuming the icons could shrink a little.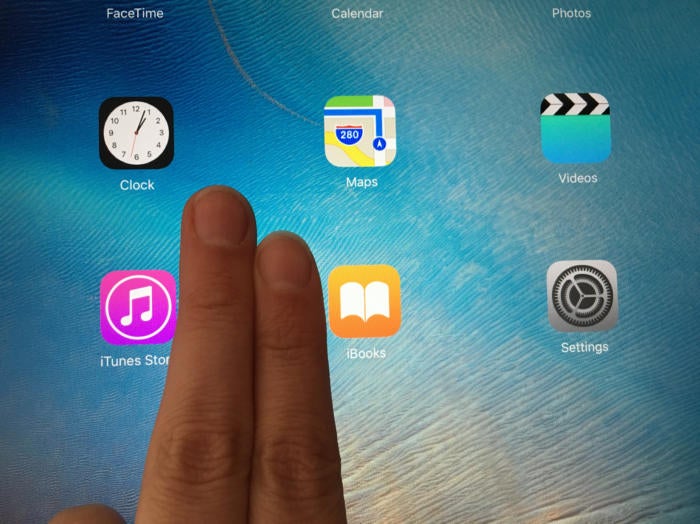 Enough space between home screen icons for two fingers. Credit: Susie Ochs
When the iPhone got a bigger screen, we got a choice: The iPhone 6, 6 Plus, 6s, and 6s Plus all have two display modes. Zoomed mode enlarges everything, including type and icons, while Standard mode keeps the icons the same size as your older, smaller iPhone, meaning you have space for an additional row of icons on your home screen. It makes zero sense to me that my 4.7-inch iPhone 6s can have six rows of four icons in portrait mode (aside from the home row), while the 12.9-inch iPad Pro can only have five rows of four icons.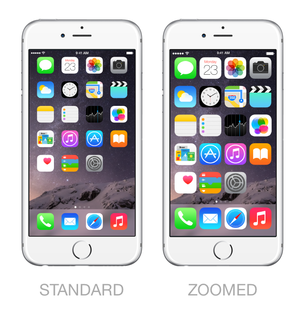 My iPhone's home screen has room for four more icons than the iPad Pro's home screen does. That's just weird.