4 things Apple Watch does that Huawei Watch can't
Apple's Watch is the No. 1 smartwatch on the planet for a reason, and though many other high-end alternatives exist, including many Android Wear options, Apple's timepiece still stands out. Here are four ways Apple Watch outperforms the stylish new Android-powered Huawei Watch.

Apple Watch and Huawei Watch. Credit: Brian Sacco
The 2015 holiday season is just a couple of festive months away, and based on the massive increase in smartwatch sales this year, a number of the most popular intelligent timepieces are sure to grace many a gift list.
The main reason for this notable uptick in smartwatch adoption: the Apple Watch. In fact, in July, two months after its U.S. release, Apple's Watch represented more than 75 percent of total global smartwatch market share, according to research firm Strategy Analytics. The company predicts global smartwatch sales will continue to increase by more than 60 percent in 2016, and though Apple will likely continue to lead the pack, other attractive alternative will also play their parts, especially high-end Android Wear watches, such as the Huawei Watch. (In case you're wondering, the correct pronunciation of Huawei is "wah way," according to this amusing video from the Chinese gadget maker.)

Apple Watch and Huawei Watch. Credit: Brian Sacco
I spent the last few weeks using these two watches side by side. (Yes, I wore two smartwatches on the same wrist, what of it?) After weeks of use, some clear strengths and weaknesses emerged for the Apple Watch and Huawei Watch. Here are four things the Apple Watch does that Huawei Watch can't. And because there are always (at least) two sides to every story, I also wrote a companion post, "4 things Huawei Watch does that Apple Watch can't."
4 good reasons to pick Apple Watch over Huawei Watch
1) Apple Watch supports NFC mobile payments, Huawei Watch doesn't
Apple's smartwatch uses near field communications (NFC) technology to make mobile payments via the company's proprietary Apple Pay service. That means you can pay for goods and services at select retailers with the tap of the wrist to a compatible PoS terminal. You simply hit the Apple Watch side button twice to launch Apple Pay, choose your payment card of choice and bring your wrist close to the terminal. The process is simple and efficient, as well as convenient, and I use it whenever I can.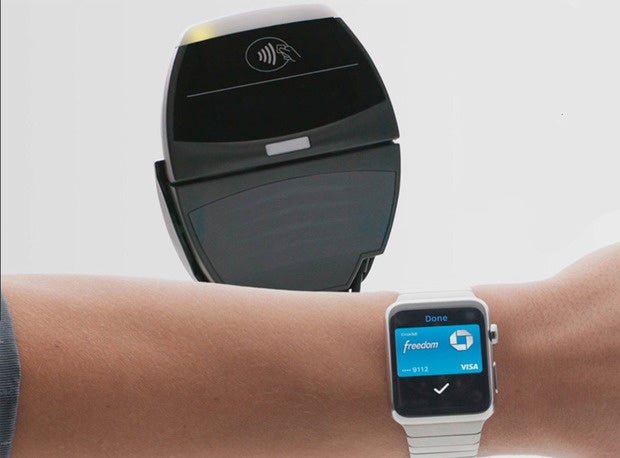 Credit: Apple
The Huawei Watch does not support NFC, and it therefore cannot take advantage of Google's rival payment service, Android Pay, or any other NFC-based payment options for Android.
2) Apple Watch 'Force Touch' enables advanced interaction
One of the most unique things about the Apple Watch is the "Force Touch" feature built into its display. With Force Touch, the Watch not only responds when you tap its screen but also when you apply different levels of pressure to it.