12 awesome iPhone camera tricks anyone can do
Face it, you take 99 percent of your photos with your iPhone. Make them the best they can be.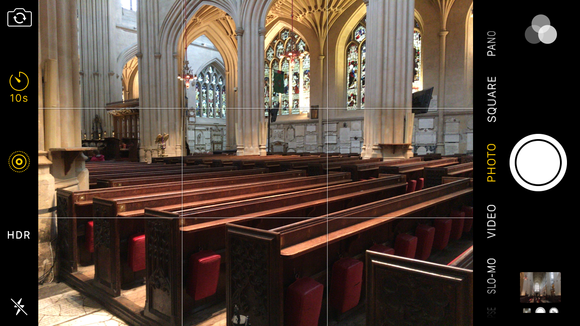 Reduce camera shake
Although things have improved dramatically, the iPhone can still struggle in low light, such as at dusk or indoors. To compensate for the low light it will often take longer exposures, and so if you're not holding your iPhone completely still the scene will get a bit smeared. (The 6 Plus and 6s Plus have optical image stabilization to help mitigate this.)
You can reduce camera shake with some old-fashioned techniques that literally stop your hands from moving as much: pushing the side of your body against a vertical surface to steady it, resting your elbows on a low wall, or even simply bracing your iPhone by holding it in both hands and tucking your elbows into your body.
Or you can use the two-second self-timer. With this, so you're not actually pressing a shutter when you're taking a shot and so shaking the camera with the simple act of doing so, you enable the timer, press the shutter, then in the two seconds before the camera actually takes the shot, brace yourself and hold the iPhone firmly.
Use Burst mode
One of the reasons pros are able to get such great portrait shots for magazine covers is because some take many dozens or hundreds of shots and just pick the one that captures a fleeting expression or a moment of delight or seriousness. You can do the same with your iPhone, and it's great for getting the perfect shot of your kid grinning or your dog's guilty look when you discover him tearing up a cushion.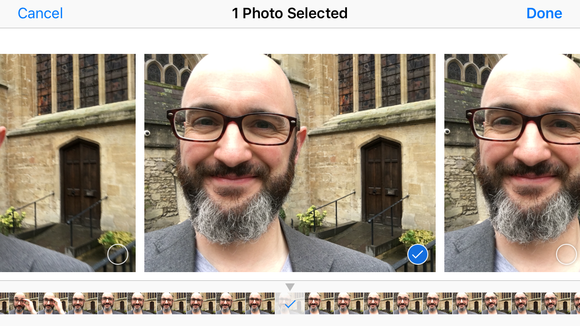 All you do is hold the shutter down (whichever shutter you use) and let the camera just keep shooting. Of course this uses up loads of space on your device, but once you get a quiet moment go to that burst of shots in your Camera Roll and tap Select. Now scrub through all the shots, tap the ones you like then tap Done; you'll be given the choice of saving everything or just the ones you selected, and in the latter case all the other, rubbish shots get deleted.
Quickly jump to a specific shooting mode with 3D Touch
If you have an iPhone 6s or 6s Plus, press hard on the icon for the Camera app on your Home screen and you'll get the option of jumping straight to slo-mo, video, selfie, or regular photo mode. (It's worth reinstating the Camera app back to your first screen of apps if you'd previously banished it because of the Control Center button for launching it, partly for this direct-mode-launch feature but also because Touch ID is so fast on the 6s-generation devices that you never get the chance to see Control Center from the Lock screen!)
Previous Page 1 2 3 4 5 Next Page