11 secrets you didn't know about your new Surface Book or Surface Pro 4
We'll tell you about the buttons you might miss, the settings worth seeking out, and some other hidden tricks.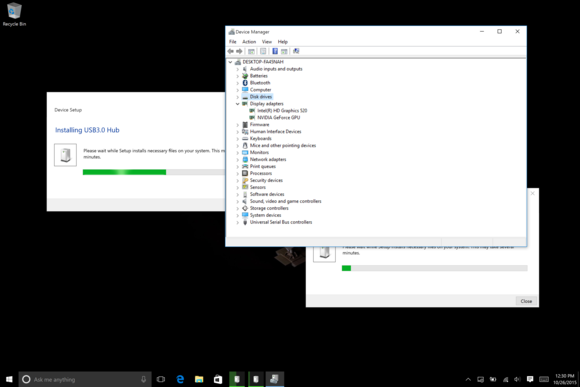 You can swap bases on the Surface Book between units with and without discrete graphics and it works just fine.
3. The power bricks are different
There seem to be two different Surface power bricks that use the Surface Connector to charge. The Surface Pro 3, Surface Pro 4 and Surface Book without the GPU all appear to use the same 30-watt brick for charging. The Surface Book with the GPU has a larger 60-watt charger. While you can use the 60-watt brick with all of the different models, the 30-watt brick doesn't have the power to charge the Surface Book with the discrete GPU while under a heavy load. It will only charge it when off or when at idle.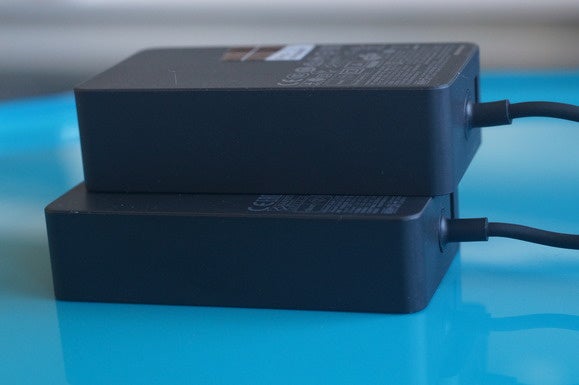 The Surface Book with discrete GPU has a slightly larger power brick. They all work, but only the larger brick will charge the discrete-GPU Book while under a heavy load. Credit: Gordon Mah Ung
2. You can run GeForce Experience
The Surface Book with discrete GPU doesn't come with Nvidia's GeForce Experience, but it works just fine. Just download the free GeForce Experience from Nvidia and it can optimize games to run at their best based on Nvidia's testing and recommendations. Unfortunately, Nvidia's GameStream, ShadowPlay and Battery Boost don't work and probably won't, because only GeForce GTX-class cards support the feature. Also don't bother with the Nvidia's reference drivers. We tried installing drivers for the Surface Book using the stock drivers from Nvidia with no luck.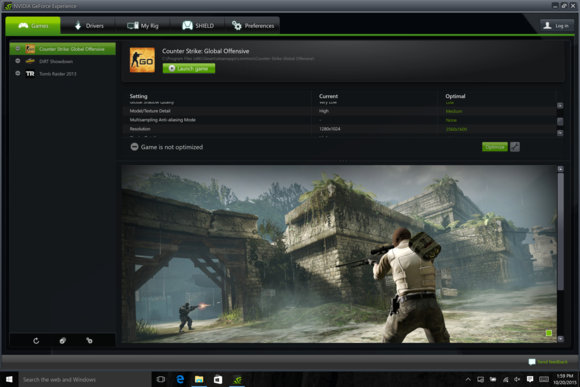 Yes, GeForce Experience does indeed work on the Surface Book. It just isn't installed from the factory.
1. Switch from discrete GPU to IGP
On the Surface Book with discrete graphics, it automatically selects whether to run applications and games on the GPU or the integrated graphics (IGP). But what if you want to override the system and run a certain app on the power-hungry GPU, say, instead of the power-sipping IGP? Go into the Surface Book's control panel, select Hardware and Sound, then click Nvidia Control Panel. (If you've installed GeForce Experience you can skip this and just right-click on the desktop and select Nvidia Control Panel). Once there, click Manage 3D settings > Program Settings. You should see a drop-down list of program to select. Just select your app and then set it from auto to either "High-performance Nvidia processor" or "Integrated graphics."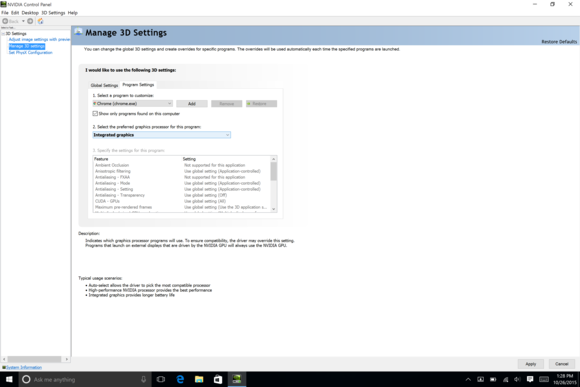 You can overide the Surface Book's control over the graphics adapter if you want to.
Previous Page 1 2 3