10 truly classy tech gifts for US$50 or less
These hot-ticket holiday items won't bust your budget.

Philips Shoqbox Mini is a rugged wireless speaker for outdoor lovers. Credit: Philips
The Shoqbox Mini streams music wirelessly via Bluetooth or you can wire it your device via its auxillary port. No matter whether it's playing rock, jazz, hip-hop, or classical, the speaker delivers clear, balanced sound even at extreme volumes, thanks to an anti-clipping feature that prevents distortion. With a rechargeable battery that lasts about five hours, it can keep up for the duration of most outdoor adventures.
SanDisk UltraFit USB 3.0 Flash Drive
Admittedly, giving someone a USB drive is bit like giving them socks or a necktie, but hear us out. SanDisk's $25 Ultrafit USB 3.0 Flash Drive packs 64GB into a USB 3.0 flash drive. Both the size—the Ultrafit protrudes only about 8mm when plugged in—and the speed make this drive ideal for connecting to TVs and car stereo systems. It also comes with SanDisk SecureAccess, which protects files with 128-bit AES encryption. A great gift for the music or movie buff in your life, it can be made more personal by preloading it with their favorite media.

SanDisk's 64GB UltraFit USB 3.0 flash drive is a great option for the movie or music lover on your list. Credit: SanDisk
Chromecast
It's hard to imagine Google could have improved on the original Chromecast streaming device, but it did—and it still costs just $35. The most significant upgrade is practical: The new version's design, a flat disc on a flexible HDMI cable, makes it a lot easier to squeeze into tight TV setups than the previous USB-stick style. Dual-band (2.4GHz/5GHz) Wi-Fi support and a tri-antenna system makes for noticeably stronger connections and faster speeds. Finally, a revamped Chromecast app makes it a lot easier to find things to watch.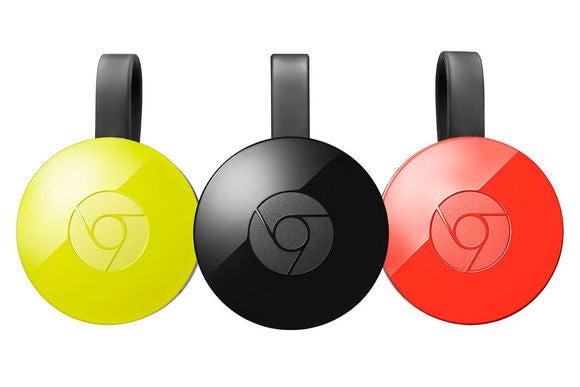 The new and improved Chromecast is a perfect gift for streaming newbies. Credit: Google
But Chromecast's strongest selling points remain: You can set it up in minutes, and it costs a fraction of set-top streamers like Roku and Apple TV.
JawBone UpMove
Activity trackers continue to be one of the most in-demand gifts this holiday season, but most run well north of $100. JawBone's $50 UpMove, however, is a solid, affordable option.

The UpMove has many of the same features as JawBone's higher-end activity trackers.
This entry-level tracker offers most of the same features as JawBone's upper-tier models, tracking steps, sleep, calories burned, and dietary data. About the size of a quarter, it snaps into a silicone clip that fastens securely on your belt or pocket. You switch between activity and sleep modes by pushing the device face—actually a big button. Jawbone's excellent Up app syncs the users' inputs to their mobile device and analyzes them to guide them toward their fitness, nutrition, and recovery goals. Unlike most other trackers, which need to be recharged every few days, the UpMove runs on one coin-cell battery that promises months-long life.
With its balance of cost and performance, the UpMove is a good call for any fitness-minded friend or family member.
Previous Page 1 2 3