10 truly classy tech gifts for US$50 or less
These hot-ticket holiday items won't bust your budget.

Logitech's bluetooth multi-device keyboard K480 works with all major computers, mobile devices, and operating systems. Credit: Logitech
The K480 is portable enough to fit in any bag that can carry a laptop or tablet, but big enough that your fingers feel comfortable and uncramped. Running the length of the keyboard above the function keys is a rubberized tray where you slot your smartphone or tablet (up to 10 inches). Once your mobile multi-tasker gets a taste of this QWERTY keyboard's excellent travel and tactile feedback, they'll wonder how they ever typed a text without it.
Bobine iPhone dock
As its name suggests—Bobine is French for "coil"—this $35 gooseneck sync cable coils into all kinds of configurations to prop up your iPhone. Whether you need a tripod to shoot a selfie, want to watch a video hands-free, or just like your phone one-touch accessible while you're working on your laptop, the Bobine is just a few twists away from being your ideal dock.

The Bobine iPhone Dock helps position your phone for productivity. Credit: Fusechicken
Made from military-grade, nickel-plated steel, the flexible arm holds the weight of the iPhone well in both upright and horizontal positions, even when plugged into the USB port of a laptop. The only caveat is the user will almost certainly have to remove whatever case houses their device, as the Bobine website advises, to get it to dock securely. Currently available for iPhone 5, 5s, 5c, 6, and 6 Plus, the Bobine puts the "fun" in functional, no matter how you use it.
JBL Clip
The problem with most portable Bluetooth speakers is that the reduction in size comes with a sacrifice in sound. No so with the $35 JBL Clip. This puck-sized speaker delivers ample loudness and bass—with little distortion except at the upper volume limit—while still fitting in the palm of your hand.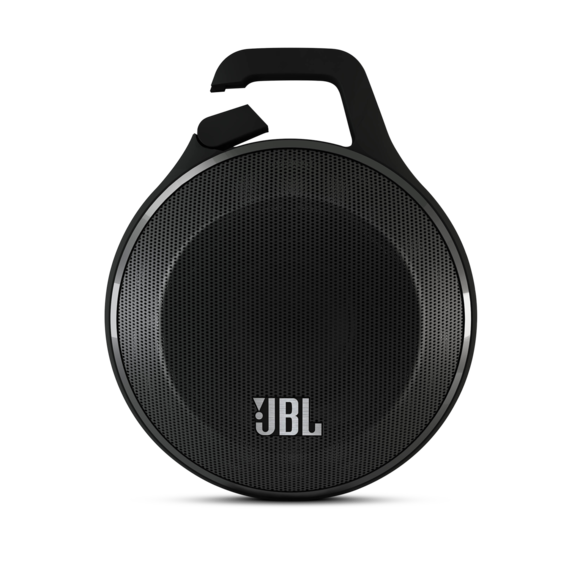 The Clip lives up to JBL's reputation for exceptional sound. Credit: JBL
The Clip can be used wirelessly or connected via its 3.5mm audio cable, which can be snapped securely underneath the speaker when not in use. There's also a built-in microphone, so you can answer calls without having to disconnecting the speaker. The carabiner hook at the top lets you easily fasten the Clip to belts, backpacks, and other items. The clip comes in five colors: black, blue, grey, red, or purple.
Philips Shoqbox Mini
For the outdoorsy music lover, consider a more rugged wireless speaker like the $50 Shoqbox Mini. This seven-ounce speaker is tough enough to hold its own off-road. It's IPX6 rated for water resistance, so it's safe even if your hiking or biking expedition encounters a rain shower. It even floats.