10 mobile marketing trends to watch in 2017
Where's mobile marketing heading? And what do CMOs and marketers need to know to stay ahead or avoid falling behind? We answer these and other mobile marketing questions.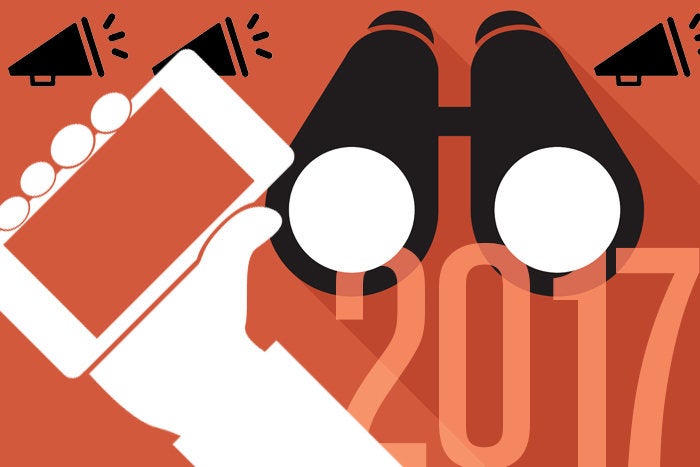 Interest in mobile apps (with the exception of messaging app) appears to be fading. Location-based marketing may help retailers and other brands bring in customers. And the speed at which your mobile website loads is only going to become more important.
These are just a few of the mobile marketing trends experts say you can expect to see play out in 2017. To find out what you should be planning for the year ahead, we asked for input from digital marketers. Here are 10 trends these experts predict you'll be buzzing about in the coming months.
1. Mind those mobile apps
In 2016, app launches grew 24 percent year-over-year, but app installs only grew six percent, according to the 2016 Adobe Digital Insights Mobile Benchmark Report. Meanwhile, five out of 10 apps are used only 10 times, Adobe's research finds.
The takeaway: "Consumers will stick with what they know and the app graveyard will continue to expand, compounding the challenge for marketers," notes Matt Asay, vice president of mobile for digital marketing platform Adobe Marketing Cloud.
Consequently, mobile marketers "must realize that building a large app audience should not be the end goal," Asay explains. "A small but highly engaged group of loyal users can contribute disproportionately to the bottom line. To attract these people, marketers should turn to mobile web first. This will be an entry point for the overall audience, and the most engaged users can be funneled into your app. Once that captive base is there, marketers must consider ways to serve them in moments of need as opposed to monopolizing their time. This will differ for every brand. A boutique fitness brand can let users ping the front desk when they're running late for a class, while a retail app can provide you coupons for items purchased most frequently."
2. Engage with mobile customers via messaging
While mobile app fatigue is rampant, interest in mobile messaging apps, like WhatsApp, Line, Snapchat, Facebook Messenger and Apple's Messenger, remains strong. "The largest (messaging) services have hundreds of millions of monthly active users," according to Business Insider. "Falling data prices, cheaper devices, and improved features are helping propel their growth."
In recent years, marketers have followed users to messaging apps — a trend that's particularly noticeable with the rise of in-app chatbots from the likes of 1-800-Flowers, Uber and Dominos.
"Over the years, we saw social networks evolve from spaces where we interacted with close family and friends to a channel for people to engage with brands," says Asay. "We anticipate the same happening with messaging apps, as marketers begin seeing this as an optimal way to connect with customers on a one-on-one basis."