10 features to try first in the public beta of iOS 10
Brave enough to test the iOS 10 public beta for yourself? Here are the features your should check out first.
Along with macOS Sierra, Apple has unleashed iOS 10 onto the public.
We've been playing around with iOS 10 for some time now, and Apple's latest mobile software release has given us enough reasons to get excited, as well as some hidden surprises that are total game-changers. If you want to experience iOS 10, you can sign up for the Apple Beta Software Program. Just make sure to back up first and be aware that since this is beta, you're bound to run into some bugs. Once you're signed up and have installed the iOS 10 public beta, here are the first 10 things you should do.
1. Customize your widgets
iOS 10 has a screen full of widgets that you can access by sliding right from the Home screen, or in the Today view of Notification Center (which you still access by sliding down from the top). Apps like Weather and Calendar are clear shoe-ins for a widget, but there are also other less-obvious third-party choices, like Spring and VSCO.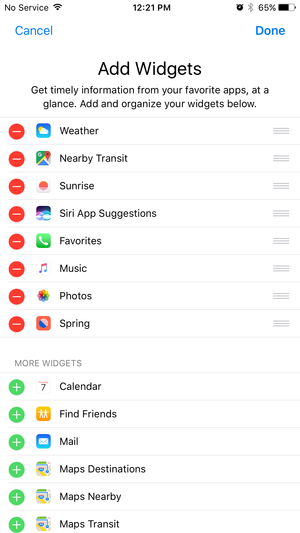 To see all the apps that you've installed with a widget counterpart, tap "Edit" at the bottom of the widget page. You'll see a list of all the available widgets. If you have an iPhone 6s or 6s Plus, you can also use 3D Touch to add a widget from each app icon.
2. Send a visual message
Apple spent a lot of time updating iMessage and the Messages app in iOS 10. Emoji are three times bigger and web links show up as rich media. But that's just the start. Your messages can now come with a visual punch. Get started by typing your message and the pressing the blue up-arrow on the right of the text field. You will then get to choose from bubble effects like Invisible Ink or full-screen effects like fireworks to assure your message won't be ignored.
These effects can be seen by iMessage users on macOS Sierra as well as iOS 10. Your green-bubble friends will get regular text messages by SMS, as always.
3. Find your best selfie
In addition to Memories, a new feature that stitches together photos and videos into themed montages, the Photos app now has facial recognition. You can search your camera roll for specific friends–or even for yourself!–to find the perfect selfies. The Albums tab also has a new People section so you can easily see get all those mugshots in one place.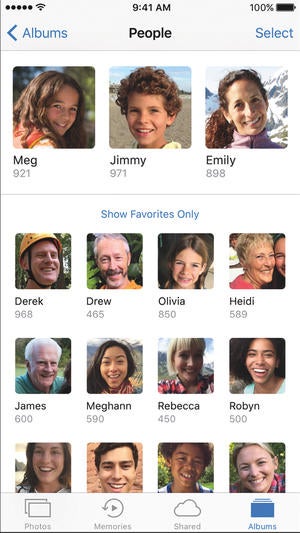 For your privacy, all of this facial recognition happens on-device using the iPhone's internal power. This means that Apple does not cross-references faces with photos on other iPhones.