Your house is filled with vampires that suck $100s from your wallet annually
Blame all those devices operating on standby mode even while they're supposedly "off." We'll show you how to put a stake in their hearts.
A "smart" surge suppressor can save you real money in the long run, but some "dumb" models consume little or now power for themselves.
I tested four surge protectors, three of them green models:
My not-so-smart, conventional surge protector is a Belkin BE106000-08R. It burned 0+ Whm. It might actually burn 0, as it doesn't have an LED.
My tests showed an odd anomaly with all three green surge protectors. Once I plugged a single device into one, the meter showed a result significantly higher number than one would expect from the combined pull of the surge protector and the device. I have not been able to find an explanation. I suspect that the smart surge protectors need some power to think.
But when used correctly, smart surge protectors can save a lot of power. My tests showed savings of eight to nearly 15KWh (that's kilowatt hours) each month.
The biggest culprits: TVs and accessories
Your home theater can easily turn into a coven of vampires. You've got a TV, an A/V receiver, various players, probably a powered subwoofer, and maybe a DVR. Some of them need to know the time, some don't' even have a standby mode, and most of them respond to a remote control,
I keep my television plugged into the Control outlet of my Rocketfish green surge. My receiver, subwoofer, Blu-ray player, LaserDisc player, Roku Streaming Stick, and Chromecast are plugged into Switched sockets. I have a lamp plugged into an always-on outlet.
That configuration sucks 564Whm. Almost all of that is the surge protector's own overhead.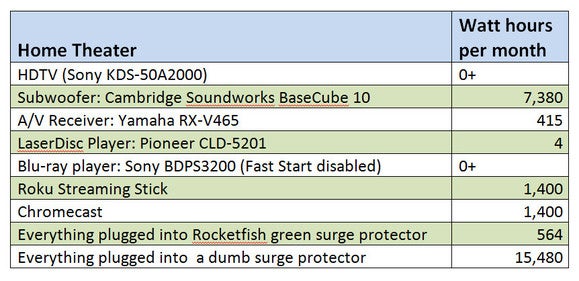 Your home theater is likely feeding a bevvy of power vampires.
But it's worth it. When I plugged all of those devices into a conventional surge protector, my meter estimated more than 15KWh a month-almost 30 times what the Rocketfish burned.
What caused that waste?
Certainly not my HDTV, a very out-of-date Sony KDS-50A2000. It scored 0+, proving that you don't need much power to react to a remote control.
About half of the waste went into my Cambridge Soundworks BaseCube 10 subwoofer, which pulled more than 7KWh a month. But almost everything there pulled more than it should have.
In fact, the only non-vampire in the group, the only other 0+, was my Sony BDPS3200 Blu-ray player-and that was only when I turned off the Fast Start option.
Previous Page 1 2 3 4 5 6 Next Page