Yamaha unveils MusicCast, a high-fidelity multi-room audio system that will have 20-plus components by year's end
Will support for high-definition audio streams be enough to break Sonos' iron grip on this market?
Yamaha is the latest consumer-electronics manufacturer to challenge Sonos in the multi-room audio market, resurrecting its MusicCast brand to launch a whole new line of components for streaming music around the home. By year's end, Yamaha says it will have more than 20 MusicCast products to offer, ranging from inexpensive powered speakers, to sound bars for the home theater, to high-end AV separates. Owners of the some of the company's most recent mid-range AV receivers will be able to add MusicCast support with a firmware update today.
Yamaha is wisely exploiting one of Sonos' few weaknesses: Support for high-definition audio. Where Sonos products can support audio bit streams with up to 16-bit resolution and maximum sampling rates of 48kHz (that's roughly CD quality), Yamaha says its MusicCast will be capable of streaming 24-bit Apple Lossless files with up sampling rates up to 96kHz, and 24-bit FLAC, AIFF, and WAV files with sampling rates as high as 192kHz.
Most MusicCast models will also support "single-device playback" of DSD streams up to 5.6MHz. (DSD—Direct-Stream Digital—was developed by Sony and Philips for the Super Audio CD platform. SACD was introduced in 1999, and never achieved mainstream commercial success, but it is prized by audiophiles for its fidelity.) Yamaha's system can stream a DSD file over a wireless network to one MusicCast device—you won't be able to link multiple units together in this mode. Other codecs—including MP3, WMA, and even MPEG4—will also be supported.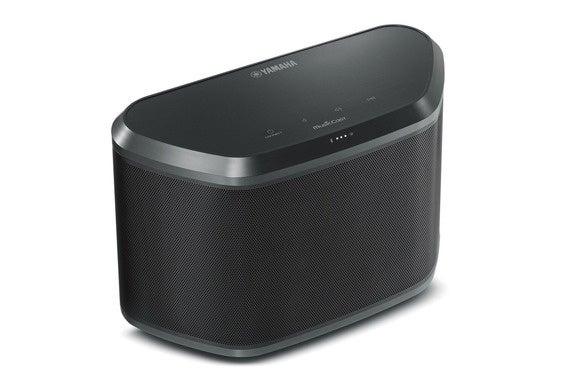 Yamaha's WX-030 speakers, $250 each, will be its entry-level MusicCast component.
MusicCast will operate on your existing wireless network, but it will support only 10 zones. That's more than enough for most homes, but a Sonos network can support as many as 32 zones (more if some are hardwired). Unlike Sonos, however, Yamaha says all MusicCast products will also support streaming music over Bluetooth 2.1+EDR (Enhanced Data Rate): From a Bluetooth device (such as a phone or tablet) to a MusicCast product, and from a MusicCast to a Bluetooth product (headphones, speakers, etc.). There is no support, however, for the popular Bluetooth codec AptX codec.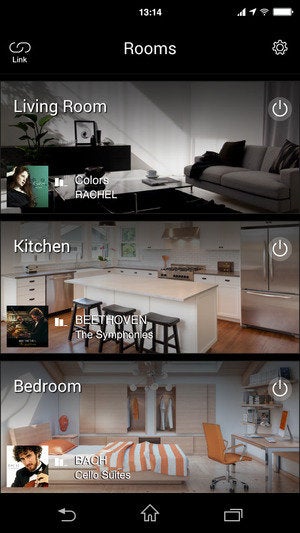 Yamaha
Yamaha's MusicCast system can stream music to up to 10 rooms, which can be linked or set to play different music.
MusicCast is controlled by a smartphone/tablet app that will also tap into streaming-music services such as Pandora, Rhapsody, Sirius XM, and Spotify, as well as a broad range of Internet radio stations via vTune. Other services, such as Apple Music and Tidal, presumably fall into the "and more to come" category that Yamaha mentions in its press materials. Yamaha also points out, however, that support for Bluetooth means you can use any streaming service you want, provided you don't mind tying up your smartphone or tablet.