Xbox One Elite Controller review: I'm finally replacing my wired 360 controller
I don't need a US$150 Xbox One controller. You probably don't need one either. But that doesn't change the fact Microsoft has built a gorgeous piece of hardware.
There are three interchangeable pairs of sticks. The standard, shipping pair is essentially identical to the stock controller—two short, concave nubs with grip around the edges. Then there's a taller pair of concave nubs, measuring about twice the height and giving increased leverage. Finally, there's a pair of domed sticks, a la Sony's DualShock 3.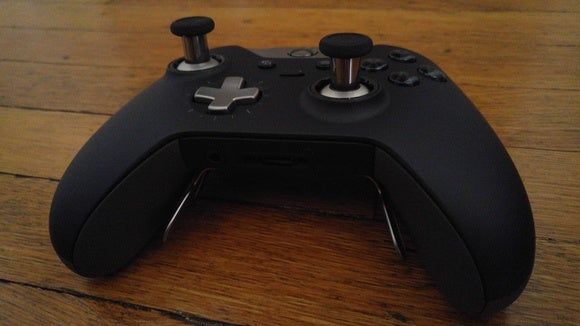 ...or tall sticks. (The stock configuration is in the primary image above.)
I've been using the domed sticks and love them, but you can pair any two together—no need to use a matched set. Replacing sticks is as simple as pulling them off. They're magnetically attached.
You can also adjust the stick sensitivity in Microsoft's software, but fair warning: It's Windows 10 only. The controller works on Windows 7 if you download the drivers from Microsoft's site—there's no automatic installation offered—but as far as I can tell you'll be stuck with the defaults. I'm not 100-percent sure because the remapping software doesn't drop on Windows until October 27.
Grips
The rear paddle controls are great too, though. I liked them on Valve's new Steam Controller and I like them here. I know all the arguments for why rear controls aren't standard—gamepads are confusing enough, and there's no way to know what you're pressing except for memorization. But as someone who's been playing games on essentially the same dual-stick layout for nearly twenty years, a bit more complexity is fine with me.
Microsoft's metal paddle controls run horizontally, fanning out along the newly-textured grips like two pairs of butterfly wings. They're not quite as ergonomic as the Steam Controller's, but they're a lot quieter and there are four instead of two.
The main issue is that Xbox games will still be built with the original controller in mind, meaning you're not really getting four new buttons as much as you're just assigning standard buttons to the rear. The default assigns the A/B/X/Y buttons (which, I should mention, feel identical to their stock controller counterparts) to the four paddles, though you can use Microsoft's remapping software to change this.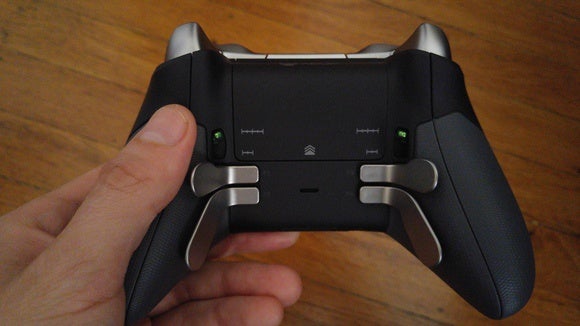 The rear paddles are all removable too, if you're playing a game that doesn't need them. Just lift and pull.
Even then, it's limited. Microsoft has, for instance, built a Halo 5 preset that maps pressing the left stick to one of the paddles to sprint, but it's not like the Steam Controller where (at its best) you'd literally map the "Sprint" command to the paddle. The Xbox still interprets it as pressing the left stick, because that's the way the Xbox is set up.
Previous Page 1 2 3 4 Next Page