Wireless security cam Blink goes from sleep to recording in less than a second
With a combination of its own silicon with its own software customised to squeeze out the most performance for the lowest amount of power, Immedia hopes the Blink system will solve the biggest annoyances of home security cameras.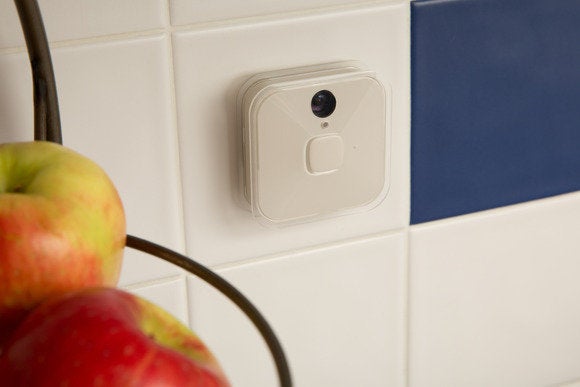 Keeping an eye on your home when you're not there comes with trade-offs. Connected security cameras can be costly and difficult to install. They usually require constant power, and the ones that don't run off batteries that need to be recharged. I've tested a few of these cameras and found that, at least for me, the annoyances generally outweigh the benefits of being able to peek in on my living room from my desk at work.
Blink addresses a few of the key problems with many home security cameras. It doesn't need to be plugged in, which gives you much more freedom in where you can place it. It's inexpensive, so you can set up multiple cameras and see more places in your house. And it uses intelligent power-saving technology so you don't have to constantly charge its battery--a convenience made possible by creator Immedia Semiconductor's own chip, designed in house.
See, Blink is a home security camera and a demonstration of Immedia's technology. End users like you and me who order the Blink cameras on Kickstarter are customers, but Immedia also sources its semiconductors to OEMs (original equipment manufacturers) across several technology markets, including home monitoring. Immedia cofounder Don Shulsinger explained to me that by crowdfunding Blink on Kickstarter, Immedia can not only sell a finished product directly to consumers, but also prove to its OEM partners that they should adopt Immedia's chips for their own products. With the Kickstarter campaign a runaway success, the company has already shown that there's demand for Blink's unique set of features.
Each Blink camera has a motion sensor and a temperature sensor, and connects to your home Wi-Fi network. But you don't have to set up multiple cameras one by one. Instead, the Blink system also comes with a "sync module" that plugs into the wall. When you fire up the smartphone app (for Android or iOS), you're communicating with the sync module, which then in turn sets up the network of cameras--Shulsinger told me that Immedia has tested one sync module with 10 cameras, and suspects it'll work with up to 16. Then you can put the wireless, battery-operated cameras anywhere, up to 100 feet away from the sync module, as long as they're within range of your Wi-Fi network.
To minimize the chore of keeping that many Blink cameras charged, the system keeps the cameras at zero power when they aren't being used. Recordings are triggered by motion sensors, so Blink also has to start up quickly to be able to actually record whatever the sensor detected--if the hardware takes a few seconds to boot up, the burglar who tripped the motion sensor could be in the kitchen making a sandwich by the time the camera by the front door captures any video. Shulsinger says the Blink cameras can wake up and start recording in a fraction of a second.