Windows 10 upgrade: Don't use Express settings if you value your privacy
Take the time to customize typing, browsing, and other settings from the get-go.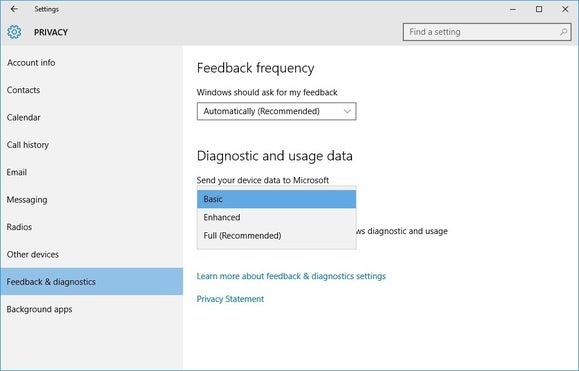 Customize settings: Browser, protection, and update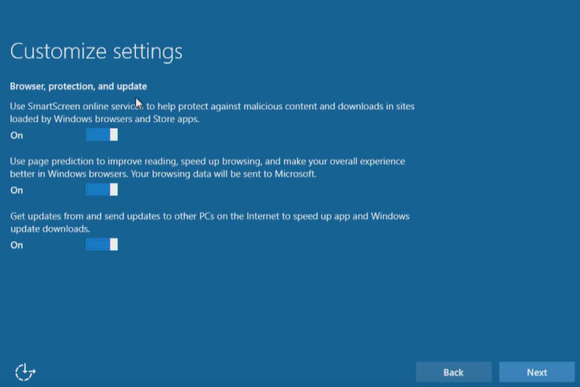 Rejoice: This is the last section you'll have to deal with before you're ready to go. It deals with settings in Microsoft's Edge browser, along with peer-to-peer distribution for Windows updates.
Use SmartScreen online services to help protect against malicious content and downloads in sites loaded by Windows browsers and Store apps.
With this security feature enabled, Microsoft downloads a list of malicious websites to your PC, and throws up a warning if you attempt to visit any of them. You could turn this off if you're not planning to use Edge (a similar feature exists in Google's Chrome browser), but it's probably best to keep this enabled, just to be safe.
If you want to turn SmartScreen off later, head to Settings > Privacy > General and uncheck "Turn on SmartScreen Filter…"
Use page prediction to improve reading, speed up browsing, and make your overall experience better in Windows browsers. Your browsing data will be sent to Microsoft.
With the Edge browser, Microsoft can guess which pages you're about to click on, and load them ahead of time so you don't have to wait. Turning this on will make web browsing feel faster, at the expense of more data collection. (Google Chrome has a similar feature, called prefetch.)
To turn off this feature after installing Windows 10, open Microsoft Edge, click the menu button (three horizontal dots) in the top-right corner, click Settings, then click View Advanced Settings. Scroll to the bottom and uncheck "Use page prediction…"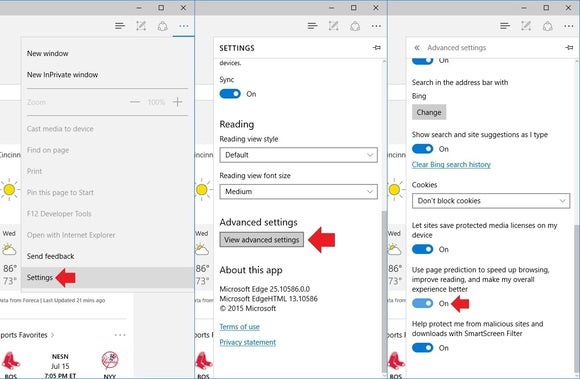 Get updates from and send updates to other PCs on the Internet to speed up app and Windows update downloads.
When your PC needs updating, Windows 10 can download small portions of the update from other PCs—both on your local network and from random users over the Internet—and those PCs can download bits of the update from you. This peer-to-peer distribution method can speed the download process and prevent Microsoft's servers from getting overloaded, but it can take up bandwidth and eat into data plans. Disable this feature if your Internet service has data caps or slow speeds.
After setup, you can turn off peer-to-peer updates through Settings > Updates & Security > Windows Update. Click on Advanced Options at the bottom of the page, then click Choose how updates are delivered. In this menu, slide the toggle to Off.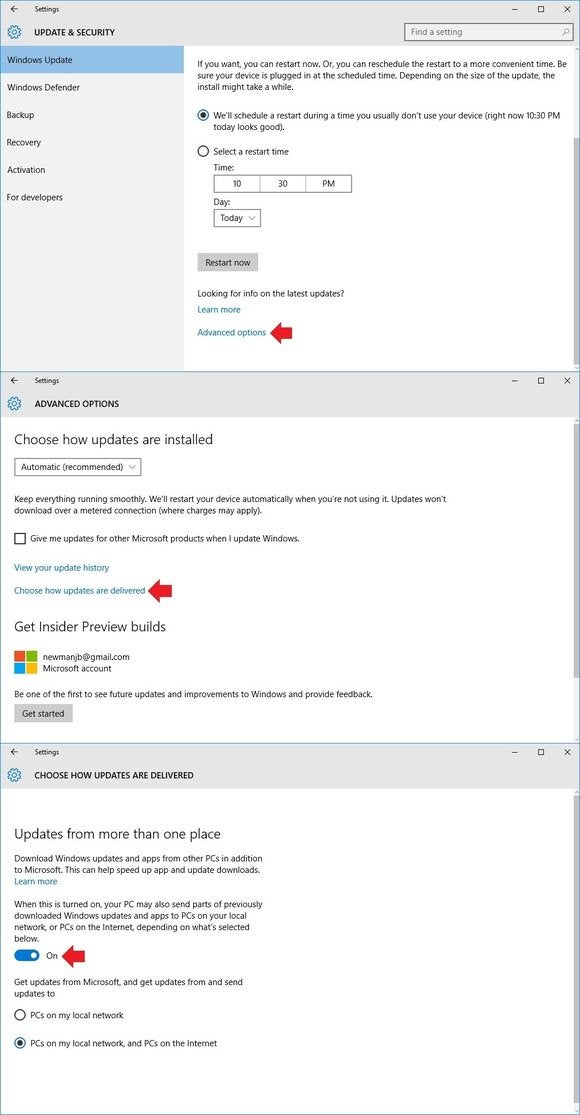 Previous Page 1 2 3 4 5 Next Page