Windows 10 upgrade: Don't use Express settings if you value your privacy
Take the time to customize typing, browsing, and other settings from the get-go.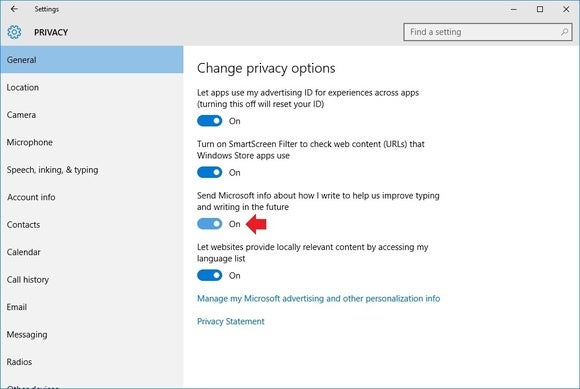 Let apps use your advertising ID for experiences across apps.
Windows 10 has several types of advertising built-in, and to personalize those ads, Microsoft generates a unique identifier that tracks your behavior across Windows Store apps. Unchecking this option doesn't remove the identifier, but it does prevent third-party apps from seeing it and showing you targeted ads. (If you don't use any Windows Store apps, this is a moot point.)
To change this setting after the Windows 10 setup process, head to Settings > Privacy > General (the same menu pictured above), and uncheck "Let apps use my advertising ID…"
Let Skype (if installed) help you connect with friends in your address book and verify your mobile number. SMS and data charges may apply.
If you have an address book that you've added in Windows (for instance, through Outlook.com, Exchange, or Google), this setting adds those contacts to Skype for messaging, voice calls, and video chat. PC users needn't worry about verifying a mobile number, as that setting only applies to Windows 10 phones.
Keep in mind that if you enable this setting, the only way to undo it is to manually remove those contacts from Skype.
Turn on Find My Device and let Windows and apps request your location, including location history, and send Microsoft and trusted partners some location data to improve location services.
Sharing your location allows Microsoft to update your weather information, find you in the Maps app, and provide location services in Cortana. This setting also lets third-party Windows Store apps (such as Uber and TripAdvisor) access your location, but they'll have to ask for additional permission when you first open their apps.
After Windows 10 setup, you can toggle location services by heading to Settings > Privacy > Location. Click the Change button to turn off location for your device, or switch the toggle underneath to disable location for your account only. To disable location for individual aps, scroll down to the Choose apps that can use your location section.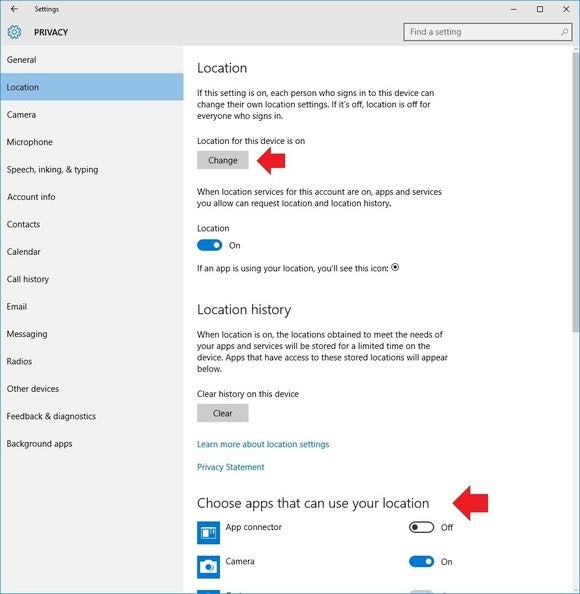 Customize settings: Connectivity and error reporting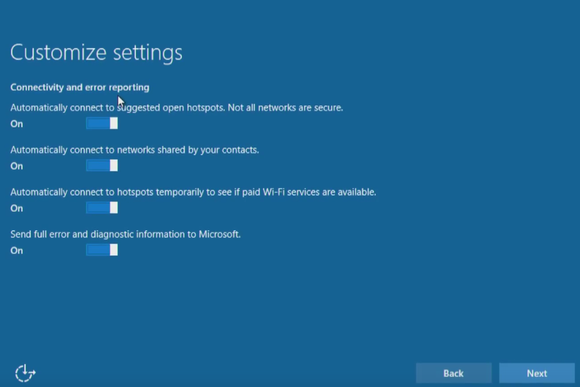 The second page in Windows 10 setup governs how Microsoft deals with Wi-Fi networks and collects telemetry data. Here are the settings you can control:
Automatically connect to suggested open hotspots. Not all networks are secure.
Microsoft maintains a list of known Wi-Fi hotspots around the world, and with this setting enabled, Windows 10 will automatically connect to them. While this may be convenient in some cases, open hotspots can also be slow and unreliable, and are more susceptible to eavesdropping. If you're comfortable connecting to Wi-Fi networks on your own, it's best to disable this setting.
Previous Page 1 2 3 4 5 Next Page