Windows 10 Mobile review: Small fixes show this plucky phone OS won't give up
A new Wallet app and wireless Continuum are good improvements, but the future hangs on just a few phones.
Messaging used to be the domain of Skype—or at least, you had the option of using Skype for text messaging. Now, SMS texts (as well as voice messages, your location, a contact, and more) are sent via the Messaging app, and Skype Preview (also found within Windows 10 on the desktop) handles your video chats and Skype instant messages. Like its desktop counterpart, Skype Preview is simple. You won't find any real-time translations here or screen sharing, just instant messages, audio and video calls, and document sharing.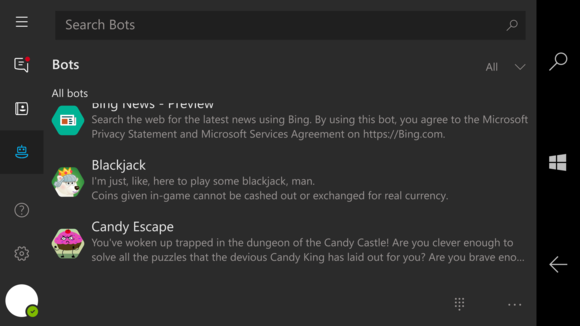 Like Windows 10 on the desktop, the new Skype app for Windows Mobile includes bot support.
I found Skype Preview's video quality to be generally good over Wi-Fi, though it lagged a bit on the Lumia 640. Video also had a tendency to drop out occasionally, causing the screen to go blank and creating a loud pop or crackle on the other end. I also crashed the app when I tried to place a call to someone who wasn't currently online.
I like the Maps app within Windows Mobile, though I've always suspected Google (and Waze's) directional routing to be a bit superior. Within the Anniversary Update, the Maps app offers a terrific amount of detail—enough, however, that it risks becoming cluttered. You can now see multiple searches on the same screen, which you can leave or minimize. Previously, if you searched for "pizza" across the whole of Chicago, Microsoft would provide a list of restaurants, with their locations listed as confusing numbers (1, 2, 3...) on the map itself. Now Microsoft simply includes the names.
Within Maps, optional routes now appear in a slideable, snapped window at the bottom of the screen. You can even click a traffic camera icon on the map to snag a real-time look at traffic, though all of the icons can get in the way of the map view, if you let them. Microsoft has taken pains to optimize the UI for one-handed use, however, by placing all of the important navigational elements at the bottom of the screen.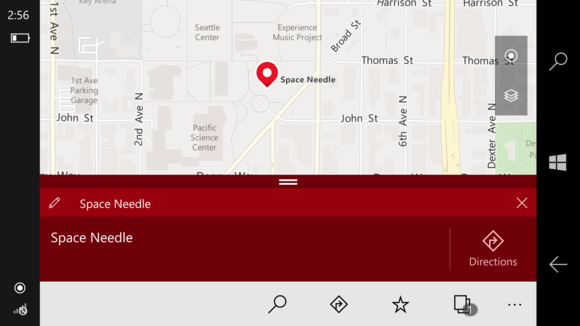 I'm not a huge fan of how Maps tries to cram in an extra "window" of text at the bottom, and its lane guidance when actually navigating could be better.
Other key mobile apps include Camera, whose manual controls have now been supplemented with Microsoft's lovely Rich Capture feature, now correctly referred to in the AU as HDR.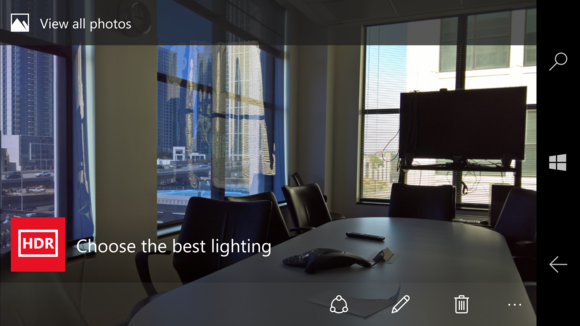 HDR is now a staple of most smartphone platforms. On Windows 10 Mobile, however, it's adjustable after the photo has been taken.
Previous Page 1 2 3 4 5 6 7 Next Page