Windows 10 Mobile review: Small fixes show this plucky phone OS won't give up
A new Wallet app and wireless Continuum are good improvements, but the future hangs on just a few phones.
When Hello works, that's all it takes to unlock the phone. But if you're not holding the phone just so, or the light is a bit off, or you're too close or too far away, then simply tapping your phone's four-digit PIN is sometimes the only thing that works. I gave Hello a second or two to work its magic, and if it didn't take, I just entered my PIN.
Under-the-hood UI improvements
Windows 10 uses the same Live Tile interface as Windows Phone 8.1, but with a more muted style that emphasizes wallpapers rather bright colors. Menus and options are much more organized, with a nice array of quick-action shortcuts that slide down from the top. Dedicated hardware buttons have been replaced with soft icons that slide in from the bottom.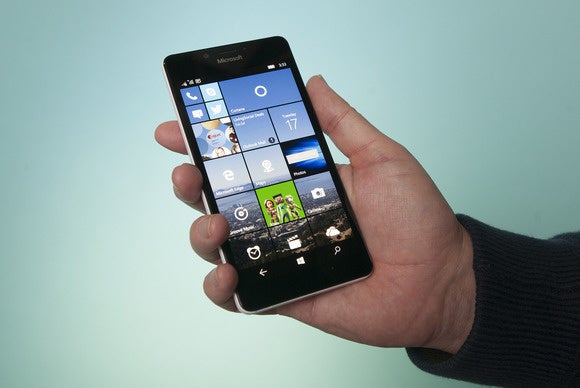 My Windows 10 Mobile home screen.
Windows 10 AU introduces a number of conveniences to the main Windows 10 Mobile UI, some of which we'll sum up here:
The Quick Actions grid of shortcuts can be rearranged, so you can pick the four most frequently accessed actions. It's slightly odd to realize that the bottom four grid icons are those most frequently accessed, though.
A new Battery setting (replacing Battery Saver) is actually a slight step backward, as Windows refuses to show you which component of your phone (the screen, the CPU, etc.) consumes the most juice. Displaying the battery life in hours and minutes, rather than guessing the time your phone will turn off, is needlessly obtuse.
An option to automatically switch the audio of a call from the headset to the speaker when pulling the phone away from one's ear makes perfect sense.
Frustratingly, "chaseable tiles" still aren't implemented. For example, the Photos app tile on the Start page won't let you jump to the specific image it's displaying when you click it.
Sharing webpages in Edge to Cortana finally works, allowing you to mark a page with a Cortana reminder to check it out. Swiping a webpage to go forward and back in Edge now works, too, though it can become confused by similar "swipe" navigation elements within a specific webpage.
Provided you have a Windows 10 AU PC, notifications can be dismissed on your phone and they'll disappear from your PC as well, at least after a few seconds.
You still can't place a call from a Windows PC via a connected Windows phone, though you can send texts. (This works with Android and iOS, too, with the Cortana app.)
Universal apps tie the Windows 10 phone to the PC
Everyone knows about the app gap—the sparse supply for Windows Phones compared to the plethora that Android and iOS enjoy. For better or for worse, Microsoft is making the most of what it has by doubling down on the basic productivity message inside its own universal apps. Within the Anniversary Update, the two specific areas of focus appear to be Skype Preview and Maps.
Previous Page 1 2 3 4 5 6 7 Next Page