Windows 10 Mobile review: Small fixes show this plucky phone OS won't give up
A new Wallet app and wireless Continuum are good improvements, but the future hangs on just a few phones.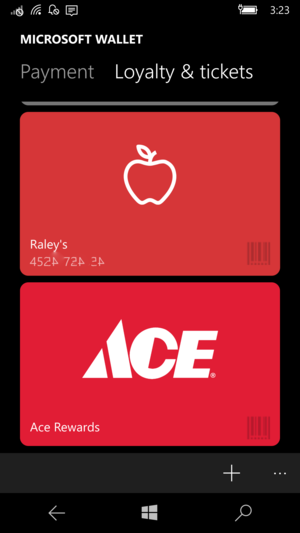 Loyalty cards can be stored in Microsoft Wallet. You'll also be notified of any purchase you make.
When it comes time to pay, tap the phone on the reader. The phone must be powered on, but the screen can be off and even locked.
Microsoft also wants you to validate your purchase, so as a second step you'll need to use Windows Hello or a PIN to authenticate the transaction. Currently, Windows Hello on Windows phones is limited to iris recognition (Lumia 950 and HP Elite x3) and fingerprint recognition (HP Elite x3). I used the iris scanner on my Lumia 950 to validate the transaction, then tapped the phone again.
I've used Wallet at several stores, and tap-to-pay works well. On one occasion my payment was rejected, but a second attempt succeeded. The broader implications are more important: Tap-to-pay is now an established way of paying via Android and iOS. This is a must-have for Windows phones.
Be warned, however—the ease with which Wallet makes purchases means that you need to make sure you don't lose your phone. Ensure you use a hard-to-guess PIN or password to unlock it, too. If you do lose your phone, you can use Microsoft's existing "find your phone" service to remotely lock it down.
Windows Hello: A cantankerous convenience
The Windows 10 AU doesn't make any obvious changes to existing hardware as far as Windows Hello is concerned, though fingerprint readers, such as on the HP Elite x3, are now supported. It does seem that Hello's iris recognition has marginally improved on the Lumia 950, allowing me to log in more frequently than in months past.
Windows Hello eliminates the need to constantly retype a PIN code by allowing the phone to visually recognize you. It's Microsoft's answer to the fingerprint readers built into the latest Nexus or Apple iPhone. In general, though, I found performance to be a mixed bag.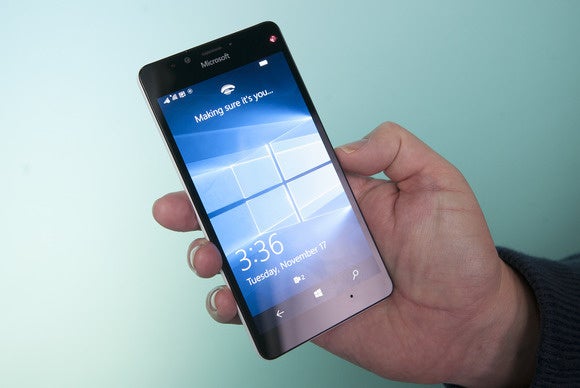 Windows Hello looks for your eyes to identify you.
Microsoft's recent Surface Pro 4 and Surface Book use special camera modules that scan your face to create a custom image to compare against the faces the camera subsequently sees. On the desktop, Hello authenticates you almost instantaneously.
The Lumia 950 and 950XL, on the other hand, scan the irises of your eyes to authenticate you. Setup requires allowing the phone's front-facing camera to scan your eyes for several seconds while it creates a reference image. After that, logging into the phone is as easy as looking into the camera's lens.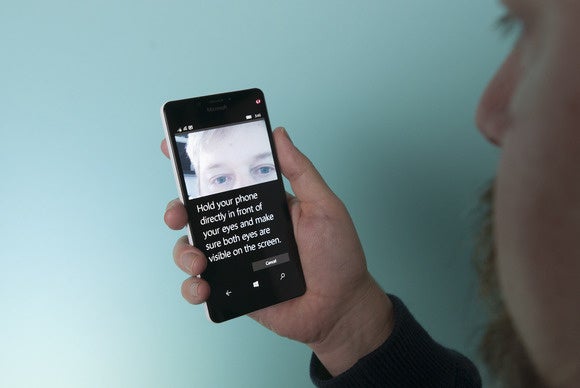 Windows Hello setup requires gazing soulfully into the Windows phone's camera for a few seconds.
Previous Page 1 2 3 4 5 6 7 Next Page