Windows 10 Mobile review: Small fixes show this plucky phone OS won't give up
A new Wallet app and wireless Continuum are good improvements, but the future hangs on just a few phones.
In Connect mode, the 950's display transforms itself into a touchpad. You can slide your fingers around to move the cursor, tap with your finger to open apps, pan and scroll with two fingers, and right-click by tapping those two fingers. You can also access the phone's keyboard to enter text—as well as the mic, which I found to be pretty handy for dictating text. The touchpad is simply an app, however, so you can slide over to another task if needed.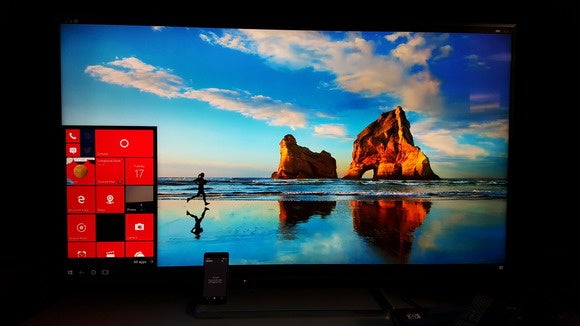 A Windows 10 Mobile phone projected onto a 60-inch screen.
In Continuum, Windows apps scale to fill your entire display. That's a key difference: Android tablets, for instance, can connect to an HDMI monitor via an MHL connector—but you're forced to view the screen inside a narrow rectangle, which mirrors the tablet you have in front of you. The Windows 10 approach is much more useful.
The image stretches a bit awkardly on a widescreen monitor, but it looks very nice while connected wirelessly to the Surface Book. Note that to minimize or close an app, you need to slide your cursor to the top-right corner—there are no visual cues telling you otherwise.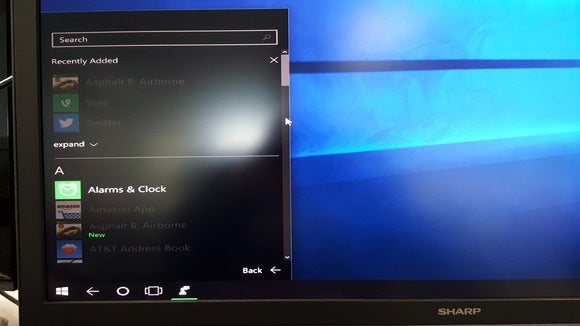 When using Continuum, expect to see some apps grayed-out.
I was very pleased at how I could sit down, open a Word file, begin taking notes on my experience, then return to my desktop PC and pick up where I left off, because everything is saved in the cloud. There's one major limitation: Continuum works only with universal apps for now, such as Outlook/Mail, Messaging, Word, Excel, and Calendar. And there's a minor one, too: while Edge displays a fullscreen experience, it can't run Flash, unlike Edge for Windows 10 PCs.
Microsoft Wallet: maybe a little too convenient?
Microsoft Wallet may have been years late to the NFC tap-to-pay game, but it's made up for it with its ease of use in the revamped version of Wallet, Wallet 2.0. I tried out Google Pay and Android Pay ages ago, and the small hitches—does the phone need to be unlocked? Do I need a PIN?—drove me to spent that extra second to pull out my wallet instead.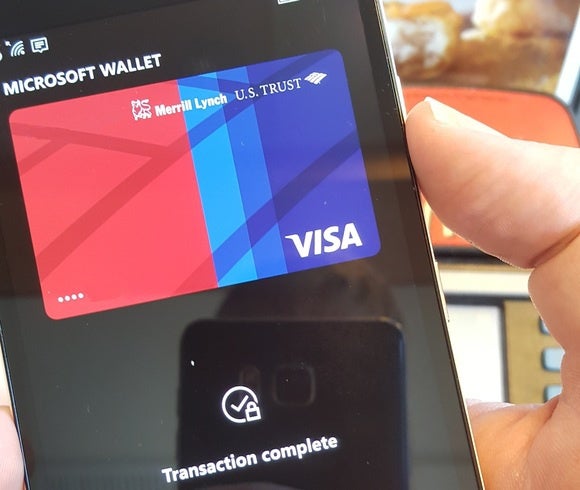 Windows 10 Mobile finally adds tap-to-pay with Microsoft Wallet.
Microsoft Wallet eliminates that needless waste. If you've already uploaded a credit card for app, music, movies, and other purchases within the Microsoft Store, Wallet asks you if you'd like to use that card to make purchases as well. (If the Wallet app doesn't ask for a payment card, you either don't have the AU or you need to update the Wallet app.) All you need is a compatible, NFC-enabled phone like the Lumia 950, and at the store, the "contactless payment" icon at the cashier. Older phones that lack an NFC chip won't be able to tap-to-pay, regardless of whether they're running Windows 10 Mobile.You can store loyalty cards on the phone, too, though they're not automatically applied to a purchase.
Previous Page 1 2 3 4 5 6 7 Next Page