Windows 10 Mobile review: Small fixes show this plucky phone OS won't give up
A new Wallet app and wireless Continuum are good improvements, but the future hangs on just a few phones.
Though the connection process is seamless enough, connecting both devices takes a bit of prep. You'll need to unlock both devices, then launch the Continuum app on the phone and Connect on the PC. The Connect app projects a Windows 10-ish desktop environment onto the PC, allowing you to use the phone's basic functions and UWP apps in a full-screen environment.
Everything feels pretty laggy, though. While you can use the phone's display as a touchscreen, you can't then touch the PC screen to navigate. And, of course, there's the obvious question: Why would you use a PC as a dumb display...when it's a PC? (My guess is only in a pinch, and probably with a user who doesn't own that particular PC.)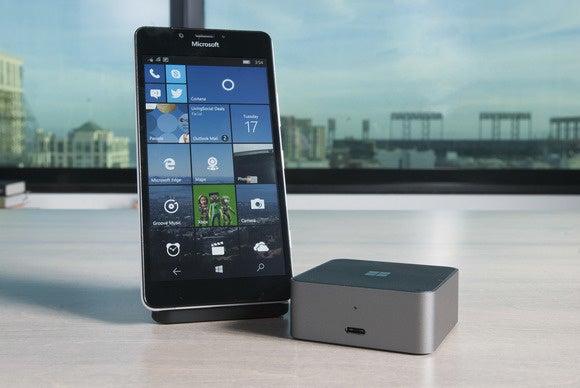 The $99 Microsoft Display Dock lets you enjoy the Continuum feature on a Lumia 950 or 950XL.
Otherwise, the wired version of Connect works best with the $99 Microsoft Display Dock, which connects to—and powers—either the Lumia 950 or 950XL via its USB-C cable. (Similar docks are either in the market or en route from companies like HP, as an accessory for its forthcoming Elite x3 Windows smartphone.)
Plug a wired keyboard or mouse into the 2.5-inch cube via one of the three USB 2.0 ports, and you're in business. You'll also have the choice of connecting via HDMI (with HDCP 1.3/1.4 copy protection) or DVI. Using DVI, your phone will act as a speaker. You can also connect a Bluetooth mouse and keyboard to the phone itself.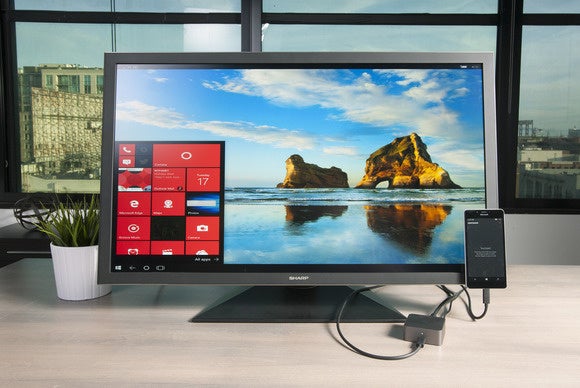 Windows 10 Connect (Continuum) and the Microsoft Display Dock provide a PC-like experience. Note that the Start menu might not look as distorted as it does here.
Continuum can also forgo the Display Dock entirely, projecting your phone's screen wirelessly via Miracast to a dongle or directly to displays like the Panasonic CX800 60-inch 4K monitor in our lab. The Continuum app senses nearby wireless displays and helps you set them up. It's amazing to look at, but like Connect to a Windows 10 PC, not really practical—there's a great deal of lag.
With the Connect app running, your phone projects a PC-like, slightly low-res desktop view onto your display, roughly similar to the look and feel of a Surface Pro 4 in tablet mode. Microsoft goes to a great deal of effort to make your Connect experience feel like using a full-fledged computer. You can set a custom, landscape background for your monitor, and apps align themselves in a PC-like taskbar at the bottom of the screen. Tapping the Windows key brings up the Start menu.
Previous Page 1 2 3 4 5 6 7 Next Page