Windows 10 Mobile review: Small fixes show this plucky phone OS won't give up
A new Wallet app and wireless Continuum are good improvements, but the future hangs on just a few phones.
A year ago, we characterized Microsoft's Windows 10 Mobile as a second-tier OS, but not one that's second rate. Fast-forward nine months later to the Windows 10 Mobile Anniversary Update, and we're still seeing signs of slow progress—but perhaps not quite fast enough for an operating system the market has largely given up on.
My impressions of the Windows 10 AU are of tweaking, patching, and catching up. The most important additions include the new Wallet app, which finally allows tap-to-pay NFC payments for Windows 10 AU smartphones—something that both Android and iOS have had for years. The simplified Skype Preview app debuts, as it also has on PCs. An existing app, Continuum, now projects screens wirelessly onto a PC without the need for a Display Dock, and Windows 10 now exchanges messages and notifications between the phone and PC better than ever. Otherwise, there are other, minor adjustments, scattered throughout the updated OS.
Fortunately, these new updates are rolling out to all Windows phones faster than expected, even "carrier-locked" models. Consider: Two phones—AT&T's Lumia 640 and Verizon's Lumia 735—were upgraded to vanilla Windows 10 just months ago, in June. If you don't have it, however, and absolutely want the Windows 10 Mobile AU now, jump on the Windows Insider program—and opt for the Release Preview, as it's the best way to try out Windows 10 Mobile AU until the carriers get their act together.
We tested Windows 10 AU with a Lumia 950, plus a slightly older Lumia 640. Because the 640 includes just 1GB of RAM, interacting with the OS lagged slightly at times. But the new Anniversary Update also felt surprisingly stable, more so than Windows 10 AU on the desktop. As before, your best experience will be had by using the phone in conjunction with a Windows 10 AU PC, ensuring that data moves freely between both platforms.
All in all, though, it's a minor update. Windows 10 AU for desktops necessitated a re-review of Windows 10. Windows 10 Mobile AU feels like more of an adjustment than an entirely new product, so we've chosen to update our original review with our impressions of the AU's new capabilities.
Continuum, connecting to Connect
In our original review, we called Windows 10 Mobile's Continuum feature its most impressive feature. The AU leaves that capability unchanged, but adds something new: the ability to connect the phone wirelessly to the Connect app on a Windows 10 PC.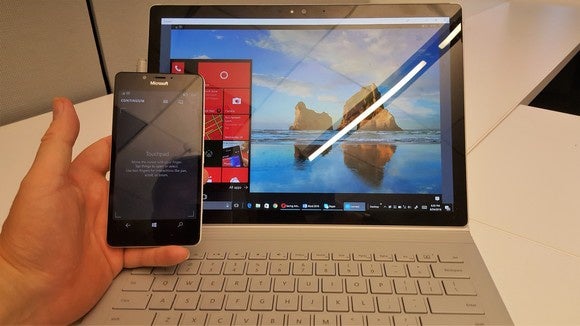 The Continuum app on Windows 10 Mobile connected to a Surface Book and its Connect app.
As before, Continuum offers the option of connecting via the wired Display Dock or wirelessly via Miracast—either to a dongle or now to a Miracast-enabled PC. Unfortunately, only certain newer phones like the Lumia 950 work with Continuum, not older phones like the 640.