Why SoftBank's Pepper could become the iPhone of robots
Pepper can't do housework, but it's a spearhead in the coming robotics wave.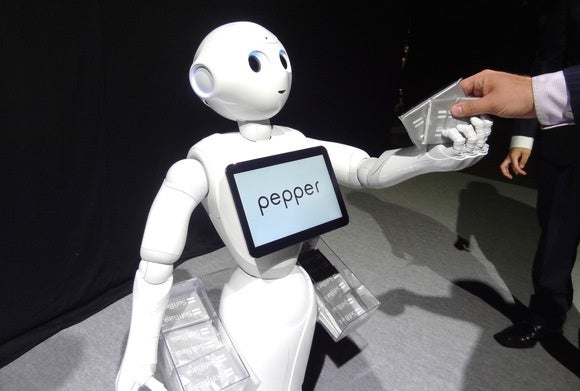 It can't cook or clean or do laundry, but SoftBank's Pepper could become the first breakout humanoid consumer robot and the vanguard of an era of mechanized, cloud-connected assistants.
Pepper goes on sale in Japan on Saturday at ¥198,000 (US$1,600) plus ¥24,600 in monthly data and insurance fees. That may sound like a lot for a machine that's basically a webcam on wheels with a penchant for chatting, but it comes with a raft of sensors and cloud-based artificial intelligence (AI) chops, and the ability to evolve its skills.
Pepper's backers, though, are perhaps its greatest asset. Japanese mobile carrier SoftBank and its heavyweight partners Foxconn Technology Group and Alibaba Group are willing to sell thousands of Peppers at a loss for at least four years. They see Pepper as a robo-pioneer for an industry they believe will be as big as automobiles, airplanes and personal computers. In their eyes, Pepper could be the iPhone of robots.
They're betting that enough consumers and businesses will buy Pepper so that their venture, SoftBank Robotics Holdings, will eventually turn profitable and generate substantial revenues in 20 or 30 years.
That's good news for the robot, because such a long-term commitment can give Pepper time to achieve the economies of scale to lower its price. That can not only attract more buyers, it can give Pepper better abilities as prices for components fall.
While Pepper's simple hands can only pick up light objects such as empty cans, giving them more sensors and servomotors would allow it to act on the physical world and perhaps take on household chores. In experiments at the University of California, Berkeley, Willow Garage's PR2 robot can now do the laundry without knowing which clothes have to be washed.
PR2, though, costs 175 times more than Pepper and requires engineering teams to improve its housework abilities.
"Pepper is still way overpriced for the functionality and doesn't present a compelling emotional purchase need, except for techies, early adopters and senior Japanese women," Lem Fugitt, a Japan-based robotics observer who runs Robots-Dreams.com, said via email, referring to a penchant among older women to like cute machines such as the baby seal robot Paro.
"Pepper is at this point still really just a toy," Damian Thong, a technology analyst at Macquarie Securities in Tokyo, said via email, adding, "The technology is improving and prices are declining, but we are still far from the point where robots can be readily integrated into our lives beyond relatively simple tasks like carpet cleaning."
Still, those early adopters will be able to use hundreds of apps for Pepper, including a photo diary, in which the machine takes photos automatically and writes in a journal; voice-driven games, and retrieving information from the Internet. Pepper can also relay messages from users' friends and family.