Why Pokémon Go fans should (or shouldn't) play Ingress
Niantic's earlier location-based game is an Android favorite, but it doesn't have the same accessible hook.
Ingress might not be the headline-grabber that Pokémon Go is right now, but as of January, it had amassed more than 14 million downloads and more than a quarter of a million players were devoted (or curious) enough to attend Niantic's live events. It's a big game with hardcore fans, and if you're looking for something richer and more complex than Pokémon Go—and you have some patience—then Ingress might be just what you need.
Bonus: For lapsed Ingress players
If you played Ingress in the early days but fell off the bandwagon, is there any reason to loop back on it now? Possibly! In addition to the ongoing narrative developments and frequent in-game and live events, there's one big feature you might have missed: Ingress now has a Missions tab that can direct you towards things to do.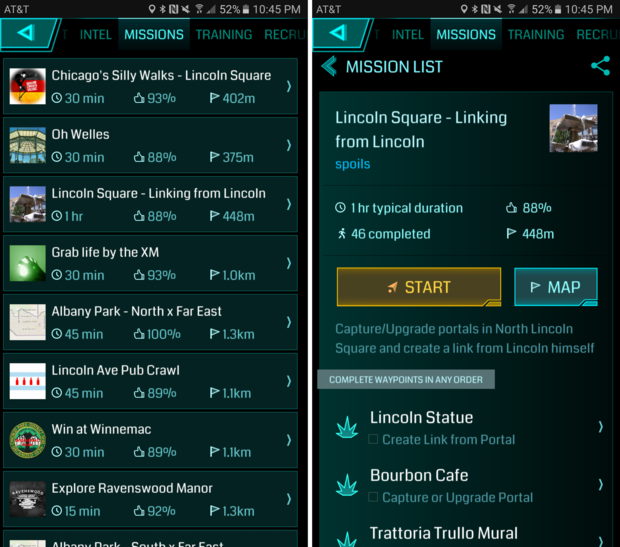 Missions give you a path to explore and a series of objectives to complete. Pokémon Go would really benefit from this kind of guidance.
Essentially, missions are sequences of locations and objectives that help guide you around nearby landmarks, tasking you with visiting multiple portals, creating links or fields, and even hunting for information in the world around you. Agents who are at level 7 or above can create their own missions and submit them for inclusion, meaning the community creates its own little challenges to keep everyone entertained and defending/taking portals.
It'll save you some meandering and maybe even expose you to more of your city in the process, which is always a plus. Also, Ingress added Android Wear support last year, so if you're wearing a watch and playing, you can perform basic actions right from your wrist rather than pulling out your phone. Fev Games has a more extensive update-by-update breakdown of how Ingress has evolved, in case you're looking for the tiniest of details on what's changed over time.
Previous Page 1 2 3 4