Why Pokémon Go fans should (or shouldn't) play Ingress
Niantic's earlier location-based game is an Android favorite, but it doesn't have the same accessible hook.
Ingress doesn't have head-to-head battles like in Pokémon Go, nor is there anything similar to the process of capturing monsters or viewing anything via augmented reality moments. The two games share the same core play approach, but then vary quite a bit in theme and execution: Pokémon Go is streamlined and accessible, making monster-catching its main goal. Ingress, on the other hand, is heavily menu-driven and all about furthering the aims of your chosen faction.
Should you play?
Ingress is free, so you might as well give it a shot—and its servers aren't being crushed like Pokémon Go's are, so Ingress could be a welcome respite when the other game doesn't work. It's a tough game to get into, however. The Ingress interface is overloaded and tough to understand, the menus are densely filled, and even the text-heavy tutorials don't do enough to ease you into the experience.
Part of the frustration come with the fact that progression is slower than in Pokémon Go, and that the items and abilities you have early on are incredibly weak. Other people have been playing for years and have high-level characters with powerful attack items, while your early blasts do nearly nothing to nearby portal resonators. Ingress feels like the kind of game that you need a hardened friend to help you understand and advance through, and without a guiding hand, it feels a bit impenetrable.
That's a big contrast from Pokémon Go, which is super streamlined and pretty easy to grasp, even if a lot of the smaller details aren't explained well enough (if at all). Pokémon Go is ultra-accessible and meant for everyone to enjoy with little trouble, while Ingress requires much more of a commitment and some perseverance.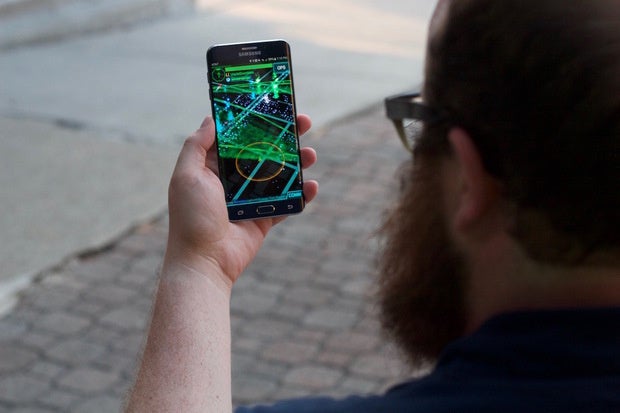 Get out there and help your faction take over the city! Or just keep playing Pokémon Go; whatever makes you happy.
While that makes early Ingress play a struggle, it means potentially greater rewards and fulfillment for players who stick with the experience. There are millions of players, and plenty of die-hards that take part in the events and meet-ups and debate the story threads online. In other words, if you're looking for a fictional, interactive rabbit hole to explore, Ingress can offer that.
Pokémon Go doesn't have any of that so far: it's a reliable cycle of capturing monsters, evolving them, triggering PokéStops, and battling over gyms. It's likely that Niantic will add more social elements in time (including trading), and perhaps make team play a proper focus. Events seem a certainty, as well, but that stuff may take time—and it's doubtful that Pokémon Go will ever sacrifice its essential accessibility to boost depth.
Previous Page 1 2 3 4 Next Page