Why one Cisco shop is willing to give WiFi startup Mist a shot
Bowdoin College CIO tests Mist's WiFi and Bluetooth Low Energy offerings to complement campus-wide Cisco WLAN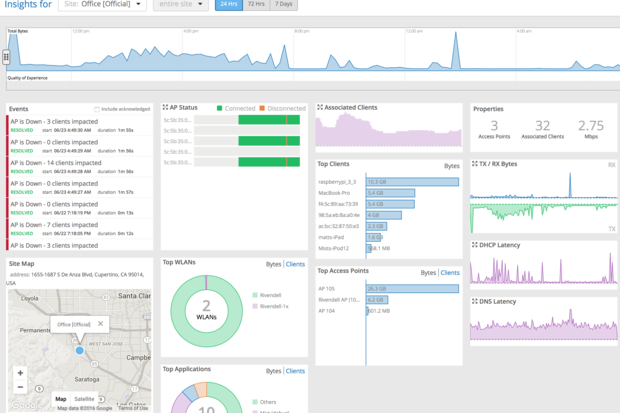 Bowdoin College's WiFi network boasts 550 Cisco access points and handles the wireless needs of up to several thousand people depending on how busy things are on the Brunswick, Maine campus. But CIO Mitchel Davis says this WLAN still has plenty of room to grow.
The college over the past couple of weeks has been testing new WiFi and Bluetooth Low Energy access points and accompanying cloud-based management tools from a Mountain View startup called Mist, formed by ex-Cisco WLAN big shots, as a possible way to expand its wireless services in exciting new ways.
One possible scenario that could play out at an upcoming art show on campus is using the technology to allow visitors to hold up their smartphones as they roam around to see what's available at each location of the exhibit. Unbeknownst to the mobile device users, virtual beacons and cloud-based algorithms would provide Bowdoin and the users with useful information based on location, mapping and other data.
"We're trying to incorporate the augmented reality experience with the actual show," says Davis, who adds that the Mist gear can pick up on the fact he enters a room wearing his Bluetooth-enabled Apple Watch. "We're not sure we can do it, but it's a cool project we can try because of Mist."
Mist attracted Davis as well with its less glamorous, but potentially very useful, management capabilities. His organization has been using a hodgepodge of wireless management tools, from Cisco and others.
"The big deal for my networking staff is seeing how it flows, where people are actually going, what kind of bandwidth they are using, when are they there (you can look at history)," he says. "You can go into their systems and look at the performance of their machine in our network, such as if they are having a lag in their https access, so we can be proactive in responding to that user's environment."
Mist a Mystery No More
To back up for a moment, you should know that Mist came out of stealth mode earlier this month, backed by $14.4M in Series A venture funding and boasting of being able to deliver "amazing experiences" to customers. The company has impressive pedigree: It's led by Co-founder and CEO Sujai Hajela, whose jobs at Cisco included overseeing its multi-billion wireless network business. Mist Co-founder and CTO Bob Friday, along with Co-founder and Chairman Brett Galloway, also hail from Cisco, having joined when it bought WLAN switch maker Airespace for $450 million in 2005. (Business Insider recently posted a good backgrounder on Mist's origins.)
This week, Mist followed up its funding news by anointing itself "a pioneer in cutting-edge wireless technologies," and formally announcing its offerings. These include access points (listed at roughly $1,400 apiece) powered by cloud-based subscription services for enabling sophisticated enterprise network management and location-based apps (subscriptions go for $150 per access point per year, or $225 per AP per year for both services). Mist utilizes Amazon Web Services for its cloud offerings, and touts a micro-services architecture that lets the company roll out and fix software piece by piece - an alternative to what the startup refers to as monolithic WLAN controller architectures of the past.