Why Detroit is moving to Silicon Valley
Software, not hardware, will define cars.

General Motors opened its Advanced Technology Silicon Valley Office in Palo Alto to develop an HTML browser for its Cadillac CUE in-vehicle infotainment (IVI) system.
ADAS and fully autonomous vehicle technology are the sweet spots for Silicon Valley software developers, whose code can tie together the myriad of cameras and sensors needed for a car to drive itself.
Google has been testing self-driving "pod" cars on California and Texas roads over the past year. Analysts, however, have been quick to point out that it would be a costly risk for Google to set up its own car manufacturing facility. Instead, it would make more sense for Google to partner with automakers, licensing the autonomous software and enabling sensor technology.
Ford, for example, is expected to announce a joint venture with Google to manufacture self-driving vehicles. While likely not an exclusive deal, Ford would build the vehicles, and Google would supply the majority of the autonomous technology.
"It does make sense that Ford and Google would work together," Juliussen said. "Ford has been more interested in car mobility as a service than any other [automaker]. With Google having the most advance software for driverless cars, it makes sense that they would work together."
If the joint Ford-Google venture is for real, it will likely launch a flurry of activity by other carmakers to partner with Google or other software developers to expedite their own autonomous vehicle offering, Juliussen said.
Along with its purported partnership with Google, Ford this month plans to test a fully autonomous version of its Fusion Hybrid near its Palo Alto R&D facility.
Ford also is partnering with software company Pivotal to speed the development of connected car technologies, which allows vehicles to communicate with other vehicles on the road, as well as public infrastructure around it.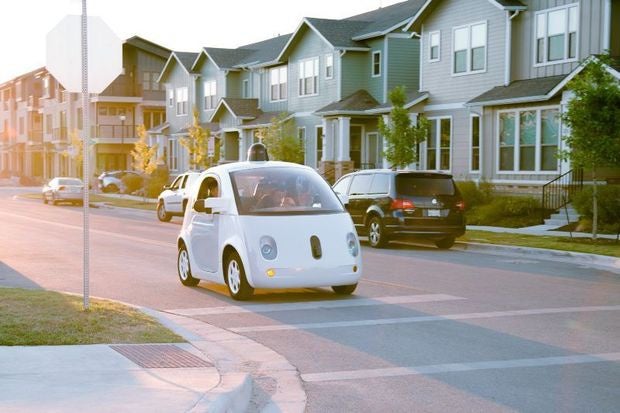 Google's self-driving "pod" car has been in testing on California and Texas roads over the past year. Credit: Creative Commons Lic.
This reflects "Ford's commitment to Smart Mobility, the company's plan to take connectivity, mobility, autonomous vehicles, the customer experience and data to the next level," it stated in a press release about its Fusion Hybrid plans.
In-vehicle infotainment
Another opportunity for Silicon Valley software developers is the in-vehicle infotainment (IVI) or head unit space. IVIs contain navigation systems, work as the displays for video cameras mounted around a vehicle, offer in-vehicle cellular communications and house music and video entertainment.
While the leading IVI OS today comes from QNX Software Systems (now owned by Blackberry) in Ontario, one of the fastest growing OSes is Linux, developed in Silicon Valley.