Why Chromebooks are schooling iPads in education
Chromebooks are cheap, easy to manage, and even easier to share.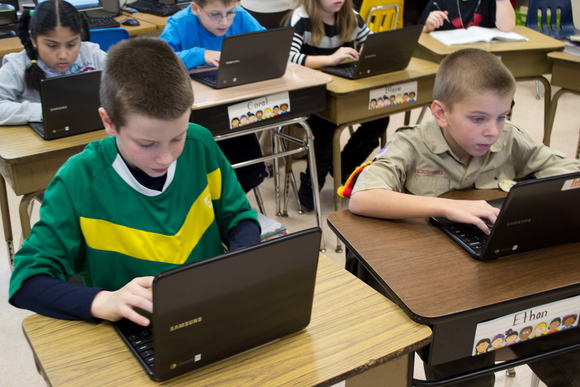 The humble Chromebook just seized the iPad's place as the future of tech in education. U.S. schools are now buying more Chromebooks than iPads. Apple's iPad also received another black eye this week as a federal grand jury is investigating the Los Angeles Unified School District's much-touted and now-axed iPad contract. LA is now going with Chromebooks--and some cheap Windows laptops, too.
To be more specific, IDC's numbers show 715,000 Chromebooks were shipped to US schools in Q3 2014, while Apple shipped 702,000 iPads in the same time. Sure, it looks close now--but Chromebooks are on the ascent and iPads are declining.
Here's why.
Chromebooks are much cheaper up-front
There's no getting around it: Chromebooks are just cheaper up-front. Some Chromebooks cost less than $200. Assuming a school wants the larger-size iPad Air--pretty much a given--that will cost them at least $379 an iPad. And that's for the previous-generation Chromebook in its smallest 16GB size. The iPad Air 2 will cost schools $479 each, or $579 if they want 64GB instead of the paltry 16GB base model. The cost adds up fast!
The low price of Chromebooks makes them much more attractive to cash-strapped school systems. They're also much cheaper to replace or repair, if necessary. And let's be honest: Chromebooks don't have a resale value as high as iPads, so they're probably less at risk of being stolen, too.
Keyboards are still necessary
Chromebooks have keyboards. In spite of all the hype about tablets and touch screens being the future, physical keyboards are still the present. iPads may work well for some things, especially at younger ages. However, when a high-schooler needs to type up a research paper, that keyboard is going to come in handy.
Plus, assuming students will be doing typing in future jobs, they'll probably be using a physical keyboard anyway. They should get some practice using a physical keyboard instead of typing on a touchscreen.
Yes, you can get third-party keyboard cases or Bluetooth keyboards for an iPad or any other tablet. But that's yet another expense that adds up when you have to issue one to each student. Every Chromebook comes with a keyboard, and that keyboard can't get separated from the device and lost.
Think Chromebooks are out of style, and that the kids these days just want a touch screen? You'd apparently be wrong. As Forrester's J.P. Gownder told TechRepublic: "In our student pilots that compared Chromebooks to iPads and several other devices, our students in grades 3-12 overwhelmingly preferred the laptop form factor over tablets."