Why Apple Watch 2 doesn't need cellular anyway
Adding a cellular radio should be a low priority for Apple, at least in the next version of Apple Watch.
Many garments were rended and much hair torn last week over a report in Bloomberg that the next version of the Apple Watch would not arrived with cellular networking.
Setting aside some of the questions about the reporting of that story and Apple's development timelines, allow me to share with you my nuanced, carefully considered, and thoughtful reaction to that news: meh.
Look, I get it: the ability to have your Apple Watch connected no matter where you are and let it function untethered from your iPhone seems like a nice addition. And I'm sure Apple will get there some day, but there are a few reasons why I think this is much ado about nothing.
Power hungry
Let's start with the engineering challenges. A cellular radio takes up a few things that the Apple Watch is already precious short on: space and power.
In terms of space, the Apple Watch is already a marvel of engineering. Look at all the stuff that's crammed into it: an integrated computer with processor, RAM, Wi-Fi and Bluetooth radios, sensors, flash memory, NFC, gyrometer and accelerometer, plus the Taptic Engine, battery, speaker, microphone, and so on. There's not a micrometer of space wasted. But if there's one thing we know about Apple's philosophy, it's that you can always aim to make devices thinner and lighter.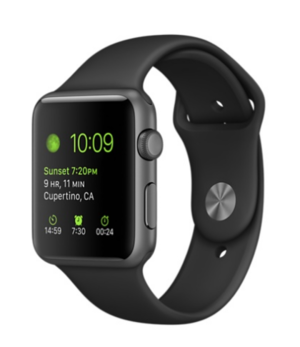 But throwing in a cellular radio means sacrificing space somewhere—especially if you want to make a thinner device already. The biggest thing in the Apple Watch? The battery…which you're going to need to power said cellular radio. This is engineering, not magic: a trade-off needs to be made somewhere.
Speaking of the battery, Apple's already admitted that it was perhaps a bit too conservative when it came to power management in watchOS 1 and is ready to sacrifice a bit of that in favor of better performance in watchOS 3. But a cellular radio is a power hog—just look at how much longer your iPhone battery lasts in airplane mode.
Could Apple do some clever power management here, such as only activating the cellular radio when you're out of range of your iPhone and not by any Wi-Fi networks? Sure, and I'm certain that when the time comes they will. But that leads into my next point.
The Apple Watch stands alone
I know a lot of people who've forgone their Macs for an iPad. And I know people who travel with only an iPhone, especially for shorter trips. But I don't know anybody who's ready to venture out for any more than the shortest trip with their Apple Watch alone. (I accidentally left my phone at home when I went to pick up food from the Thai restaurant around the corner last night, and that was about as far as I'd want to go.)