Why AMD's next-gen console victories are a big win for PC gamers
What does the inclusion of AMD silicon in next-gen consoles mean to PC gamers? Nothing less than more games, better games, and more powerful PC hardware down the line.
Hence, the PC's aura of neglect. But with x86 blood now coursing through every platform's virtual veins, those days may be ending.
As I said, it costs a lot of money to make a top-notch video game, so developers have a strong incentive to get those games in front of as many potential buyers as possible. The shared x86 architecture makes it easier to port games from consoles to PCs.
And at this June's E3 conference—the annual blockbuster gaming-industry convention where the best and brightest games are trotted out—most of the triple-A titles announced for the Xbox One and PlayStation 4 were announced for PCs, too. We saw The Crew and Titanfall, as well as PC bastions like The Witcher 3. Thanks, x86!
"I think we'll see much easier leveraging of work between consoles and PCs," says Patrick Moorhead, founder and principal analyst at Moor Insights and Strategy.
That work isn't limited to hardware, either.
"One very important statement that Microsoft made last week [at Build] was when indie developers asked, What do I have to do to develop Xbox One games?'" Moorhead says. "Microsoft's response was, Learn how to code for Windows 8.' That says everything right there."
Ports aplenty, part deux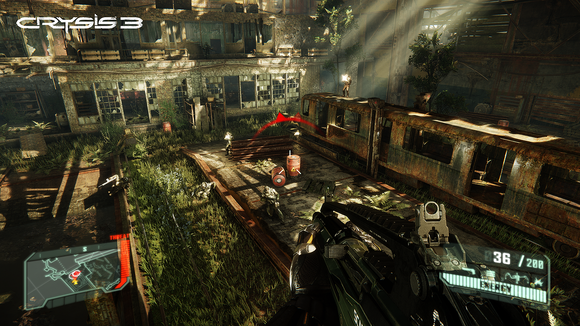 CRYTEK. Thanks to the x86 APU in consoles, Moorhead says, the future of PC games is more Crysis 3 than *shudder* Crysis 2.
Okay, the future of PC gaming looks bright—but don't console ports suck? They're always buggy, and they never look as good as good as native PC games, right? So is a flood of ports really worth getting excited about?
In this case, yes. We're starting to get theoretical here, but the presence of a Radeon CPU and GPU in each and every console promises to make it easier for developers to optimize their games for the PC. Better optimization means better graphics and performance.
Nalasco points to the performance of the latest console games as testament to what extreme optimization can provide. The current console designs are seven years old and have a fraction of the power of modern-day gaming PCs, yet still pump out fairly impressive graphics.
"The opportunity that we see is to get that fit and level of optimization, or something close to it, in PC games," Nalasco says. "If you're developing a game or a game engine and want to port it over to the PC, you don't have to start over from scratch with your optimization. You're starting from a base that has CPU cores that are much more similar, GPU cores that are much more similar, and other feature sets that are much more comparable."
Previous Page 1 2 3 4 Next Page