Where's My Water? 2 launches with new puzzles, more ducks, and hard challenges
Disney Interactive launched Where's My Water? 2 on Thursday, a follow-up to the popular original.
"Duck Rush" levels are sprinkled throughout each world, which feature puzzles that are larger than the screen and a view that moves as soon as you make your first dig. You have to quickly navigate through the puzzle without knowing what comes next, collecting as many ducks as you can along the way. There are six ducks to hunt for instead of the usual three. The original Where's My Water? experimented with these longer levels, but players found them hard to manipulate on the screen. Disney Interactive developers have worked those kinks out for this release--the "Duck Rush" levels flow smoothly and throw a fun new style to the mix.
Something else you'll notice is the game's "freemium" model: The app is free to download, but features in-app purchases throughout the game. (Like it or not, this model is becoming the new normal for mobile games.) Players can purchase power-ups that manipulate the water in a certain way to help beat difficult levels faster. Power-ups include a vacuum, dropper, and absorber, all which are used to collect ducks. You can also purchase a hint tool if you get stuck on a move. Hints and power-ups are rewarded as you progress, but you can purchase more if you're really in a bind--though each level is totally beatable without the use of power-ups. Individual power-ups or hints cost $1, and bundles range from $3 to $10. There's no in-game currency to collect: Where's My Water? 2 runs on cold hard cash.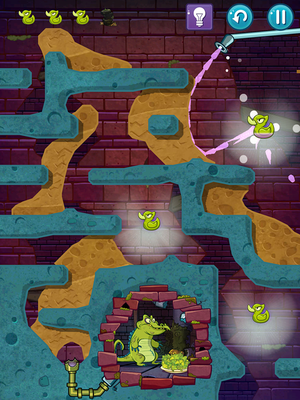 Use power-ups to direct the flow of liquid towards ducks.
In the top-right corner of the level-select page, you'll find an energy bar. As you play, you lose energy, and when you're completely out of energy, you're locked out of the game for a short period of time. (FitzRandolph said this was about 25 minutes.) But, never fear, you can pay to refill your energy bar if you don't want to wait. You can also request an energy refill from a friend, or pay $17 for unlimited energy.
Speaking of friends, Where's My Water? 2 integrates with Facebook to add a social element that the first was missing. As you move through the game, a rubber duck marks your location, showing which level you're currently playing. If you connect via Facebook, you'll notice other ducks floating along--your friends. Tap on a duck to see more about your friend's progress, or to gift them with more energy if he or she is out. You can even customize your own duck to make it stand out amongst your friends. Facebook integration is completely optional if you'd prefer to play alone.