Where Jeb Bush stands on cybersecurity
A look at what the Presidential candidates have to say about cybersecurity, starting with Jeb Bush.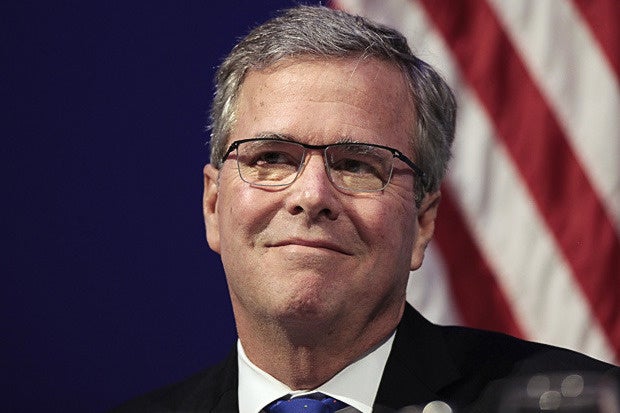 Former Florida Governor Jeb Bush smiles as he is introduced to speak at the Detroit Economic Club in Detroit, Michigan, February 4, 2015.Credit: REUTERS/Rebecca Cook
After watching the recent televised Republican Presidential candidate debate, you may be wondering where the candidates stand on cybersecurity - which ties in to our nation's defense.
The topic of cybersecurity may be too technical and thus too risky for the candidates to speak out on TV, or the moderators don't want to devote time to it in place of what they consider to be more important issues.
To fill the void, we bring you a look at what the candidates are saying about cybersecurity.
We'll start with Jeb Bush, who's had a lot to say about it.
Here's some key excerpts from a blog post last week by Jeb on his "Jeb! 2016" website.
On the importance of cyber: "for all of the Internet's transformational power, its future rests in part on one critical factor—cybersecurity."
Here's a hard knock on the current President, to be expected from a Republican contender: "Unfortunately, a series of high-profile cybersecurity failures and the Obama administration's feeble response to the growing threat have demonstrated real vulnerabilities in government and private systems, eroding public confidence in both the government and even the Internet itself."
If Jeb doesn't win the Presidency, he can become an IT analyst.. all of the figures he quotes here are attributed to Symantec - the world's largest security software company: "Last year, 60% of all targeted attacks struck small and medium-sized organizations, which often have fewer resources to invest in cybersecurity. In 2014, five out of every six large companies were targeted with spear-phishing attacks, a 40% increase over the previous year. Attacks against small and medium-sized businesses increased 26% and 30%, respectively."
About the OPM fiasco and what he thinks should have been done: "The intrusion into the Office of Personnel Management (OPM)— the human resources department of the U.S. Government—illustrates the cultural failure of the Obama administration to take these threats seriously. The OPM systems contain millions of personnel records—many of which included an intrusive and sensitive personnel questionnaire. OPM officials knew this data was valuable, sensitive, and vulnerable, but failed to take basic steps to protect it."
Jeb on why Hillary Clinton can't be trusted on security: "It should not be too much to ask government officials to abide by the laws and rules in place to safeguard our national security. Secretary Hillary Clinton's growing email scandal highlights reckless behavior by officials entrusted with some of our nation's most sensitive secrets."
Support for the FBI, but he offers no solutions to the severe cybersecurity labor shortage faced by federal agencies: "The Federal Bureau of Investigation also needs more resources to fight back against the onslaught of cybercrime."