What's in my bag: STM Dux, OtterBox Symmetry, and Velvetwire Powerline
As I've aged, I've learned things about myself: I get sleepy at 3:30 in the afternoon. I don't like coconut. I need to keep my gadgets in a case. And I will lose cables like it's my job. (But it's not.)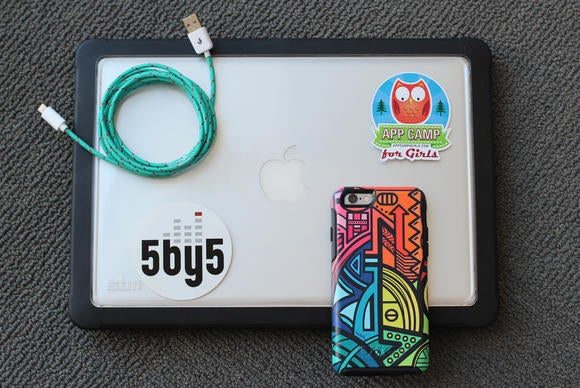 As I've aged, I've learned things about myself: I get sleepy at 3:30 in the afternoon. I don't like coconut. I need to keep my gadgets in a case. And I will lose cables like it's my job. (But it's not.)
I also tend to carry too much stuff in my bag, but it's a carefully curated selection of only the best, most useful bag-stuffings available, I assure you: cables and securely cased Apple gadgets. Here are three products I'm carrying day in and day out--hopefully you will find them as incredibly useful as I do.
Velvetwire Powerline
I have plenty of little USB chargers, from all the iPhones and iPods I've owned or reviewed, but the cables seem to wiggle away never to be seen again. I've taken to keeping my most special, most favorite Lightning cable in my bag, where I don't have to loan it to anyone--and if I do, it's easy to tell it's mine and remember to get it back.
Velvetwire was founded by a husband-and-wife team who had just returned from an around-the-world sailing trip, where they learned how crucial it was to have power adapters that didn't drain the boat's battery with phantom power. They make the excellent Powerslayer line of chargers--I keep one plugged in next to my bed--as well as these nautical-inspired Powerline cables.
The cables are nice and thick (Velvetwire says they use thick wires to transfer more power, as well as for durability), and I love the braided jacketing. It makes the cables easy to coil, and the teal color is visible even in the darkest corners of my bag. I've got the 2-meter cable, which is $30, but they also have a 1-meter length for $20.
STM Dux
I carry my MacBook Air with me daily, so I want to keep it protected while it jostles around in my backpack. For years I used a zip-up neoprene sleeve, but recently I switched to this hard shell Dux case from STM ($60). I save myself literally seconds per day not having to extract my Mac from the sleeve, and now I can cover the Dux case with stickers, since propriety and the employee handbook prevent me from putting stickers on my company-issued laptop.
The Dux is clear polycarbonate that snaps onto your MacBook Air in two pieces, with a ring of black rubbery material around the edge of each case, for a little extra bump protection on the corners. All the ports are uncovered, as well as the hinge, which serves as the vent on your MacBook Air. I haven't noticed any extra heat or fan noise since using it. I was a little worried about getting crud in the ports (you know, lint and other bottom-of-the-backpack debris, I guess?), but that hasn't been an issue either. It's 0.81 pounds, which is a significant amount of weight to add to my 2.96-pound 13-inch MacBook Air, but the Incase sleeve I was using before was 0.6 pounds, so the net difference wasn't noticeable for long.