What if Apple's Magic act is just the beginning?
If they make that trackpad any bigger, they could fit a whole computer in there.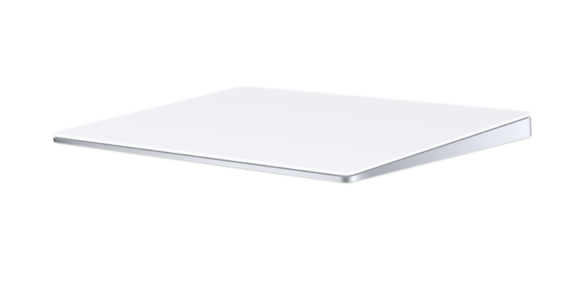 Credit: Apple
It might have been tame when compared to some of its other announcements this fall, but Apple last week still managed to generate a little buzz around a relatively dull product category: input devices. In one fell swoop it updated its entire line of Mac accessories for the first time in years, sporting built-in rechargeable batteries and the latest technologies.
While they were certainly overdue for a refresh, it was still a surprising move. Mac sales are only a fraction of Apple's quarterly revenue, and the vast majority of Macs sold are notebooks. Apple doesn't break down its sales by model, but based on industry trends it likely sells less than 2 million desktops per quarter, barely enough to encapsulate more than a rounding error on its balance sheet.
But Apple clearly spent considerable time and resources on its new accessory lineup. They're impressive devices, but after an initial flurry of sales to diehards, they're not going to make much noise at all, and since we probably won't see another upgrade until the Apple Car makes its appearance, you could wonder why Apple bothered at all. But it's not about what they can do today; I think Apple has something much bigger in store for its Magic devices—and it has very little to do with pointing and clicking.
Power up
While the rest of the industry is obsessively trying to merge the mobile and PC worlds into a super device, Apple has thus far committed to keeping OS X and iOS separate. Tim Cook has declared as such in very plain English, but even if you don't want to believe him, Apple's new family of accessories—not to mention the iPod Pro and Apple Pencil—should be concrete proof. There may indeed be a hybrid Mac prototype on one of the shelves in Jony Ive's laboratory, but we're not about to see it anytime soon.

Don't laugh—speed charging over Lightning is a feature we want to see everywhere. Credit: Roman Loyola
But there's a definite overlap. OS X has been taking design cues from iOS for years, and the similarities are more than skin deep. Each of Apple's new input devices take a page from iOS–Force Touch on the trackpad, multitouch on the mouse and a very travel-friendly keyboard–but the most intriguing thing of all is how they charge. Apple has kindly dispensed with the need for AAs by putting a lithium-ion battery inside each of the devices, but when you charge them for the first time you'll might be surprised to find a very iOS-centric Lightning port. Magic Mouse, trackpad and keyboard are the first non-iOS devices to use the charging technology (along with Apple Pencil and the new Apple TV's remote, which will go on sale later this month), and it could hold the key to the battery breakthrough we've been anxiously waiting for.