V-Moda Crossfade Wireless headphone review: Musical excitement, with or without wires
These Bluetooth headphones will have DJs and audiophiles alike tapping their toes to the beat.
V-Moda CEO Val Kolton set out to make a splash in the headphone market by merging superb sound with impeccable style. Judging by V-Moda's Crossfade line of headphones, he's achieved his goal and then some. In a relatively short period, DJs have made V-Moda their headphone brand of choice and audiophiles have also embraced the brand. The 12-year-old company's success drew the attention of the electronic musical instrument manufacturer Roland, which took a majority stake in V-Moda in August.
No wires, few compromises
Kolton's latest creation brings Bluetooth connectivity to the V-Moda bag of tricks, and it's battery is rated to deliver up to 12 hours of music listening (with a 30-minute "quick charge" providing more than three hours of battery life). It can pair with two devices simultaneously, but it surprisingly doesn't support the aptX codec.
Three tactile controls—volume minus, play/pause, and volume plus—are situated on the top of the right ear cup for your index finger to easily find. The on/off/pairing switch sits perfectly where your thumb lies.
The play/pause button actually wears a few hats: Pressing and holding it will activate Siri on an iOS device. Pressing it twice quickly will advance a song. Pressing it three times will go back. Each of the functions worked like a charm, but be aware that there isn't a lot of tactile difference between the buttons. I initially found it difficult to know which button I was pressing. After a few minutes, I began using the triangular point of the middle button to orient myself and I was fine after that. But I needed that orientation frequently. I can understand why the team at V-moda designed it this way from an aesthetic point of view, but it's not functionally intuitive.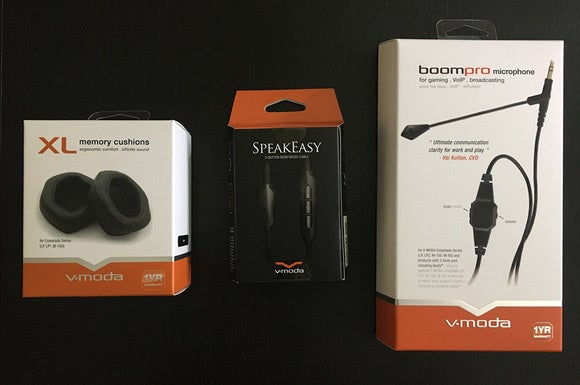 V-Moda offers a line of high-quality cables and accessories. The company sent its memory-foam ear cups, SpeakEasy inline remote cable, and BoomPro microphone.
Make no mistake, Kolton doesn't want you to think of this as simply a wireless version of the acclaimed Crossfade 100. He wants you to see this as V-Moda's best headphone ever. The heart of the Crossfade Wireless is a 50mm dual-diaphragm driver that the company says is patented.
Time to accessorize
What separates the V-Moda line from perhaps any other headphone is its customizability and its line of accessories. You can purchase your headphones in black, white/silver, or with a color trim. The decorative ear cup shields are customizable. You can chose from laser-engraved aluminum to 3D-printed shields. You can brand the shields with stock crests or upload your own design using V-Moda-provided Adobe Photoshop or Adobe Illustrator templates.