U.S. set to smash solar power records this year
Solar exceeded natural gas for new energy installations for the first time.
The GTM solar power report, published in conjunction with the Solar Energy Industries Association (SEIA), predicted 2016 will see 900,000 new, individual solar installation projects.
Last year, solar installations broke all previous records, but the amount was only 16% more than in 2014 with 7,260GW of new DC solar power. This year, however, marks the greatest year-over-year growth in history, GTM said.
Utility-scale solar installations will represent 74% of the installations for 2016, though residential and commercial markets will also experience strong growth in 2016. In fact, the U.S. is on the verge of its one millionth solar installation milestone.
"Year after year, we're seeing the demand for solar energy in America skyrocket, and the benefits that brings to both our nation's economy and environment are staggering," said SEIA CEO Rhone Resch. "As we gear up for what's expected to be an unprecedented year for our industry, and nation, this report reveals just how important it is to maintain smart, effective, forward-looking public policies, like the ITC."

Click on image to enlarge. Credit: GTM Resarch
The residential PV market experienced its largest annual growth rate to date, an impressive feat given that 2015 marked the fourth consecutive year of greater than 50% annual growth.
In 2015, residential solar power installations once again represented the fastest-growing sector in U.S., with more than 2GW added for the first time in a single year -- a growth rate of 66% over 2014.
Utility solar power also had a record year with more than 4GW of new power installed, up 6% over 2014, with nearly 20GW of new solar still in development, GTM said.
Thirteen states installed more than 100MW (mega watts or millions of watts) of solar each in 2015, up from nine states in 2014.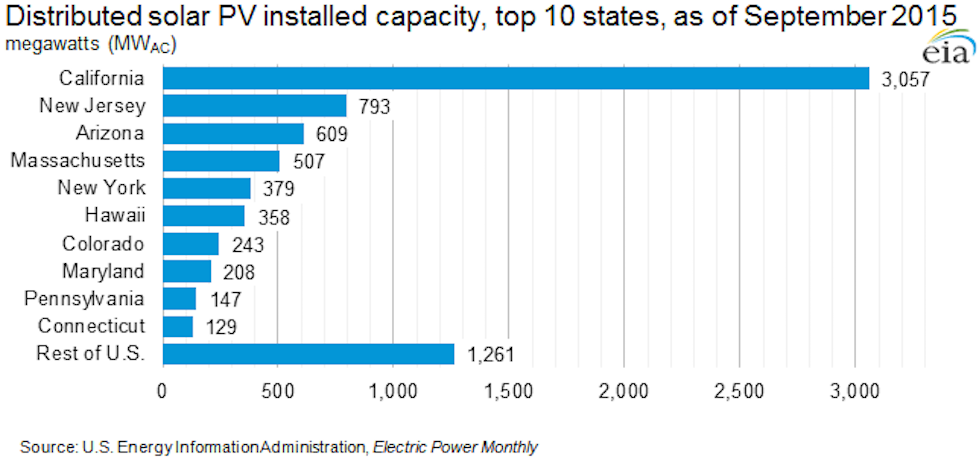 Click on image to enlarge. Credit: GTM Resarch
Almost 40% of the distributed PV capacity in the U.S. is located in California. The next nine states after California account for another 44%, according to the EIA.
California's leadership in distributed solar capacity is driven by a combination of factors, including high electricity prices, a large population, strong solar resources, and state policies and incentives that support solar PV, according to the EIA.
North Carolina also saw record PV growth, coming in right behind California as only the second state to have added more than 1GW of new utility photovoltaic solar power in 2015.
The U.S. energy storage market also just experienced its best quarter and year ever.