U.S. set to smash solar power records this year
Solar exceeded natural gas for new energy installations for the first time.
New U.S. solar power installations this year are set to break all previous records by more than doubling what was installed last year with 16 billion new watts of photovoltaic (PV) capacity.
The total operating solar PV capacity in the U.S. is expected to reach 25.6 gigawatts (billion watts or GW) of direct current (DC) by the end of the year, according to GTM Research's U.S. Solar Market Insight Report 2015 Year in Review.
When accounting for all projects (both distributed and centralized), solar accounted for 29.4% of new electric generating capacity installed in the U.S. in 2015, exceeding the total for natural gas for the first time.

Click on image to enlarge. Credit: GTM Resarch
By 2021, GTM Research predicted the U.S. solar market will exceed 100GW of total solar capacity.
"The U.S. is indeed the fastest developed growth market for solar globally and in 2016 will be the highest growth market overall," said Mohit Anand, GTM's senior analyst for Global Solar Markets.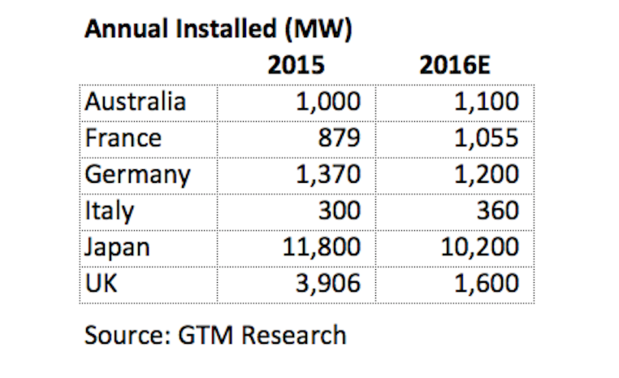 The U.S. is expected to install 16GW (16,000MW) of new solar power this year, leading all other developed nations in solar power installations. Credit: GTM Research
One of the factors spurring growth last year and this was the impending expiration of the U.S. government's solar investment tax credit (ITC). That measure, passed in 2008, offered a 30% tax credit for residential and business installations. It was due to expire this year, and the tax credit was supposed to drop to a more permanent 10%. In December, however, Congress passed a three-year extension on the 30% ITC.
"Starting 2017, that growth rate will temper down drastically, but [the U.S.] will still be in the top five [nations for solar installations] starting 2018," Anand said.
Even as distributed solar installations have grown, 2015 saw total electricity sales fall for the fifth time in the past eight years, according to the U.S. Energy Information Administration (EIA). In 2015, electricity sales fell 1.1% from the previous year.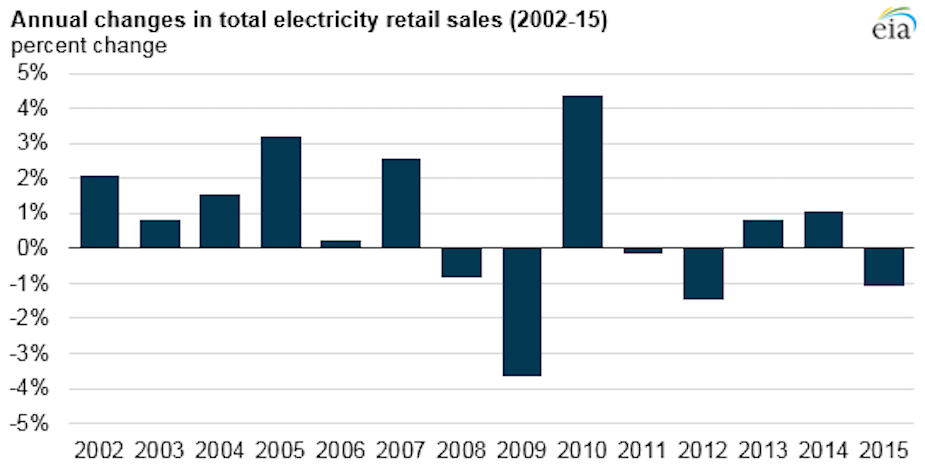 In 2015, total electricity sales fell for the fifth time in the past eight years, according to U.S. Energy Information Administration. Click on image to enlarge. Credit: EIA
The declining rates of electricity demand reflect both a market saturation in electrical capacity and increasing efficiency of electricity-using devices. The EIA also cited a "changing composition of the economy," which has reduced the role of electricity-intensive manufacturing.
Meanwhile, Deutsche Bank believes the cost to finance solar installations will also drop from 7.9% in 2014 to about 5.4% this year. Financing for installations is expected to stabilize at around 6.5% by 2019.