Twitter's fantastic live NFL stream turned this recluse into a raving football fan
Twitter's first NFL Thursday Night Football stream was a fantastic experience.
Trololololol
More worryingly, I also saw large pictures of scantily clad women attached to tweets with an #NFL hashtag. Having staffers cutting out tweets like those would improve the Twitter TNF experience. Curation could also add to the experience and make it more "Twittery," perhaps by including polls, or surfacing popular tweets and tweets from NFL players and analysts. As it was, the feed itself felt sort of chatroom-esque at times, though the continued interactions of people responding to tweets was where the real magic was found.
Those are minor gripes, though.
All in all, Twitter's debut Thursday Night Football stream was a tantalizing experience. I'm looking forward to next week's game, and wish that Twitter had the rights to stream every Thursday night matchup, rather than just 10 of the 17 games. I'm sure the company does too—and not just because it has the potential increase engagement with existing Twitter users. Going by the tweets alongside last night's stream, this endeavor appears to be bringing fresh faces into the social network. I wouldn't expect the experience to lure many traditional TV watchers, but it potentially has major appeal for cord cutters and foreigners.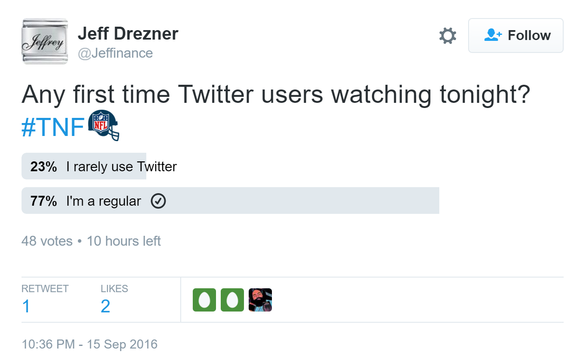 With cord cutting looking like a bigger bargain than ever, Twitter's NFL gamble might just pay off. Check out TechHive's guide to watching the NFL without cable if you've shunned the TV industry but still want to watch football games each and every week.
Previous Page 1 2 3