tvOS 10 FAQ: Everything you need to know about the next Apple TV update
What are the biggest new features? What didn't Apple announce at the WWDC 2016 keynote? And how did it get to version 10 already? We've got answers.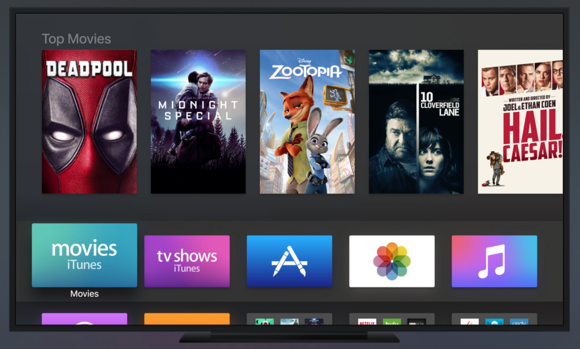 Dark Mode in tvOS 10. Credit: Apple
I love the automatic download feature on my iPhone and iPad. Any chance Apple extended it to tvOS?
You're in luck! With tvOS 10, when you buy an app on your iPhone that has an Apple TV companion, it will automatically show up on your Apple TV home screen.
Are Apple Music and Photos redesigned to match the iOS versions?
Absolutely. The bold, vision Music layout and simpler navigation of Apple Music is tailor-made for big screens, and Photos' new Memories feature will let your favorite moments shine.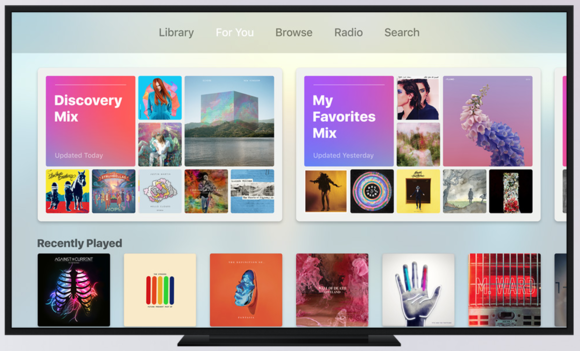 Apple Music in tvOS 10 (and an excellent example of how light the interface can be when you aren't in Dark Mode). Credit: Apple
What new tools did developers get?
Quite a few. In addition to the search and Siri features, Cue highlighted three new APIs: ReplayKit, which gives devs the ability to record and live broadcast gameplay; PhotoKit, which provides access to the complete iCloud Photo Library; and HomeKit, which works with the new iOS app to bring remote access and automation to smart home devices. And there are many more features that appeared on a slide but didn't get any keynote time:
Aerial updates
App badging
AVKit up next
Bluetooth accessories
Continuity keyboard
Four game controller support
HomeKit
iTunes extras video backgrounds
More dictation languages
Multipeer connectivity
Multiplayer game sessions
New search apps
New Siri countries
PhotoKit
Photos enhancements
ReplayKit
Search by subscriptions
SpriteKit focus support
Switch Control
TVMLkit enhancements
Universal links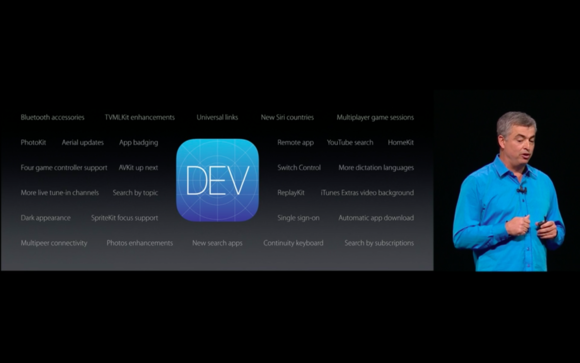 Can't wait to see what the developer community makes out of all of that.
Anything special for game developers?
Yes. Developers now have a choice to require a separate controller for Apple TV games, which will inevitably lead to more robust, console-caliber gameplay. Previously, they had to provide at least some functionality for the Siri Remote, which has accelerometer control and limited buttons.
Did Eddie dance?
Shockingly, no.
Got more tvOS 10 or Apple TV questions? Let us know in the comments, and we'll do our best to find out the answers.
Previous Page 1 2 3