Trucker, mayor, space cowboy: Five sim games that let you live out your dreams
Whether you enjoy controlling the fates of countless Sims or driving a truck across Europe, you can be sure there's an excellent simulator out there in which to hone your skills.
"Oh, come on!" my wife cried in exasperation. "Can't these people drive?!" She was sitting at the helm of an 18-wheeler DAF truck carrying a load of construction gear from Zurich to Munich, trying to find the right moment to drive into busy intersection while morning commuters kept driving in, not slowing down to let her enter.I was in my usual spot, the passenger seat, taking notes and occasionally honking the truck's massive air horn to no noticeable effect. Finally, my wife decided to take matters into her own hands, simply driving into the intersection and giving a few commuters a good scare.
Nobody was hurt, because this all happened in a computer game.
That's the power of a good simulator: the responsibility you're given feels real, but not too scary. And just like real life, simulators are very diverse: Whether you enjoy being a mayor, a space combat pilot, a truck driver, or a civilian pilot, you can find at least one simulator in which to live out your fantasy.
Euro Truck Simulator 2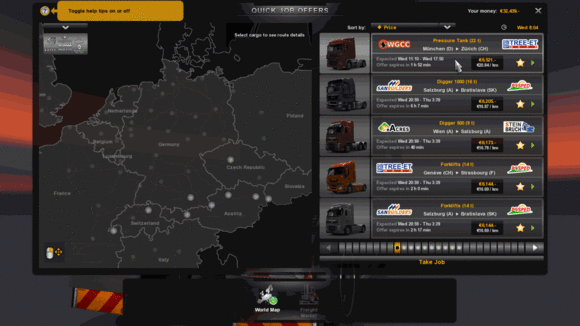 Euro Truck Simulator 2 offers a vast network of roads to drive on, with many missions to pick from.
In this decidedly niche title, you find yourself in the driver's seat of a full-trailer truck, hauling freight across Europe. Vehicle interiors are painstakingly rendered, and countryside views are breathtaking. The climate and time of day change, so you could find yourself enjoying a balmy spring day in one ride, and trying to navigate under torrential rain in the middle of the night in the next.
I never thought a truck-driving simulator could be fun, but Euro Truck Simulator 2 ($40) proved me wrong. There is something soothing in watching the world go by from the high and mighty cockpit of a Volvo FH16 Globetrotter XL.
If you're used to more traditional racing games, getting used to the way trucks handle in the game may take some time. They really do feel like trucks: Slow to accelerate, jarringly fast to brake thanks to air brakes, ungainly to maneuver, and immensely powerful.
You start the game as a freelance driver for hire, taking on trucking jobs across the continent. From one job to the next, you gain experience, unlock abilities, and set aside a nice nest egg you can eventually use to buy a truck of your own and start a trucking company.
Euro truck simulator lets you customize the controls and decide just how much of the driving you want the game to do, and how much you want to handle on your own. Manually switching gears on a truck hauling 20 tons of ore while navigating through a massive open pit mine is no mean feat--which is why it's nice to have the game take care of that detail for you, at least as you're getting started.