Triby review: Alexa transforms a silly gadget into a family-oriented digital assistant
The Triby outperformed any other speakerphone I've had in my kitchen. Its speaker function was smooth and clean: People on the other end of a Triby VoIP call could hear me clearly, and their voices consistently sounded intelligible.
A magnetic personality
A pair of strong magnets on the Triby's rear panel enables you to hang it from most metal surfaces, but it won't stick to the stainless steel cladding the doors of many high-end refrigerators. A soft silicone sleeve wraps around the speaker so that it won't mar the surfaces it comes in contact with. These are available in various colors: Invoxia sent the Triby in a green sleeve, but included a blue one in the box. A basket handle on top makes the battery-powered device easy to tote into another room.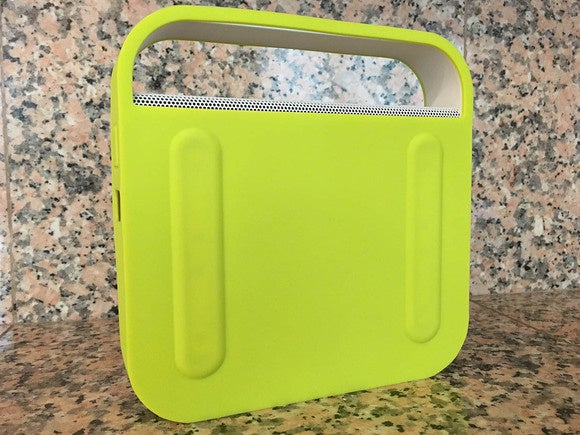 The Triby has two powerful popsicle-stick-shaped magnets on its rear panel. Credit: Theo Nicolakis
A decent wireless speaker with Spotify Connect
The Triby supports both Wi-Fi and Bluetooth, giving you lots of connectivity options. Just pick your app of choice and let it stream! I found it easy to pair and connect the Triby with my smartphone and Wi-Fi router.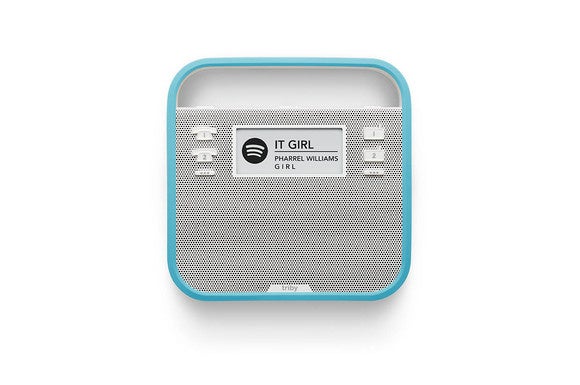 The Triby has integrated Spotify Connect support. Credit: Invoxia
You can stream music stored on your Wi-Fi network, and the Triby also supports Spotify Connect. This enables you to play Spotify music directly on the Triby without the need to pull out your smartphone or tablet or sit in front of your computer. You can even preset any number of Internet radio stations, or program its buttons with your musical preferences.
A companion app works alongside its physical buttons. While the top buttons are a play/pause toggle and volume up and down, the front of the Triby's facade sport set of uniquely shaped buttons that hearken to the Triby's original intent as a kid-friendly product.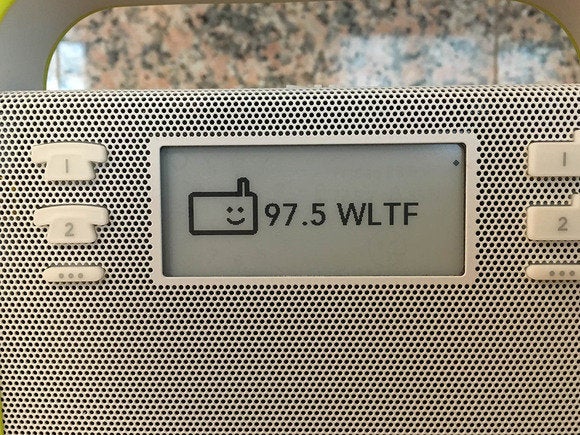 You can access Internet radio stations at the touch of a button on the Triby. Credit: Theo Nicolakis
The pair on the left side resemble old-fashioned rotary telephones. You can program each of these with a phone number for one-touch VoIP calls. They won't need to remember phone numbers, and you won't need to give them cell phones or pay for a land line. The only caveat is that the people at the other end of the call must have the Triby app on their cell phones in order to receive the calls. That also means you can't program the buttons to call 911.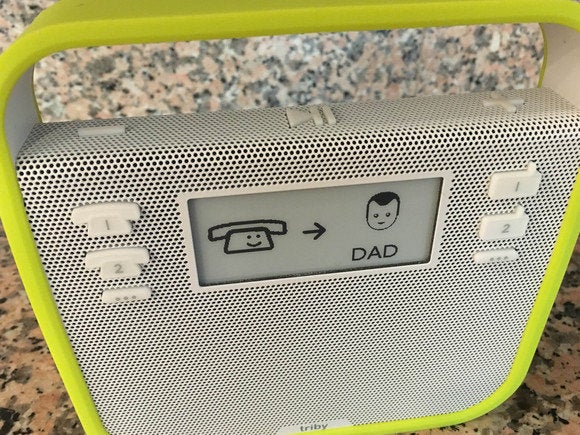 You can make VoIP calls right from the Triby, but only using either of the two preset buttons. Credit: Theo Nicolakis
Previous Page 1 2 3 4 5 Next Page