Total War: Warhammer review: Variety and Vampire Counts breathe new life into Total War
All the series needed was ten-foot bats and skeleton cavalry.
Put it all together—different units, army styles, leaders, territories, quest battles—and Total Warhammer seems a massive cut above Attila's tentative forays into asymmetrical play, to say nothing of the stagnation of Rome II. It feels like four different games. Four good games.
(Side note: From a technical standpoint the game's been rock solid. Frame rates have been smooth on both the campaign screen and in battles, and AI turns are quick. I've seen some scattered reports of server issues today but I assume those are the usual launch day blues and will clear up soon. I did have one moment where I thought an enemy army had bugged out and disappeared—then I realized they'd gone into the Underway and traversed under a mountain. Crafty Greenskins.)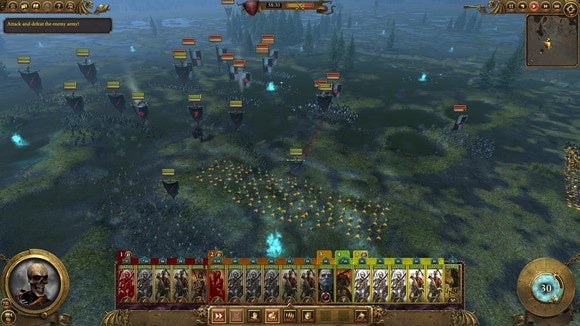 Sure, there are still issues. The notably-poor AI hasn't been so much overhauled for Total Warhammer as it's been disguised. Units can be slow to respond, but now it's a pack of dogs instead of a sloppy cavalry charge. Pathfinding gets broken but its Hammerers stuck on Grudgebearer's ridiculous cart instead of Hastati on Hoplites. You'll still see opposing factions make stupid decisions, and there's a particularly annoying tendency for enemies to sue for peace on every single turn if you're winning a war, requiring you to dismiss their entreaties after every move—particularly annoying if you're laying siege to a city and all you're doing is repeatedly tapping "End Turn."
It's Total War.
Bottom line
But it's so much more than just Total War. Even with Attila making good on some of Rome II's promise, I found myself dreading drawn-out engagements and increasingly bored with the Total War formula. Total Warhammer doesn't tamper with much, but it injects enough personality to revive a series that's been steadily collapsing under its own weight.
The question now is whether see some of its better ideas brought back into Total War proper. A Medieval game with the Battle of Hastings or Falkirk. Another stab at Napoleon, but focused in on the differences between factions. Again, it's not like I expect to see ten-foot tall bats stalking the fields of circa-1800 France, but Total Warhammer proves a bit more variety is the cure to Total War's woes.
Previous Page 1 2 3