Total War: Warhammer DirectX 12 performance preview: Radeon reigns supreme
Radeon wins across the board--but mind those caveats.
We tested the three most popular gaming resolutions—1920x1080, 2560x1440, and 3840x2160—with AMD and Nvidia's rivals in the $200 to $500 price range to make this an apples-to-apples comparison.
First up, we tested 1080p resolution with the Asus Strix GTX 960 DirectCU II ($205 at Newegg) and VisionTek Radeon R9 380 ($200 at Amazon). Our 1440p testing was a bit more crowded, as it felt worthwhile to benchmark all of the remaining cards at this resolution. We tested the EVGA GTX 970 FTW ($325 on Amazon), Sapphire Nitro 390 ($325 on Newegg), Nvidia's reference GTX 980, and the MSI R9 390X Gaming 8GB ($420 on Newegg).
Finally, we tested the GTX 980 and MSI R9 390X at 4K, and we tossed in Nvidia's new $600 GTX 1080 for good measure, because we had one handy. Even that powerhouse can't come close to cracking the hallowed 60fps barrier in Total Warhammer at 4K/Ultra.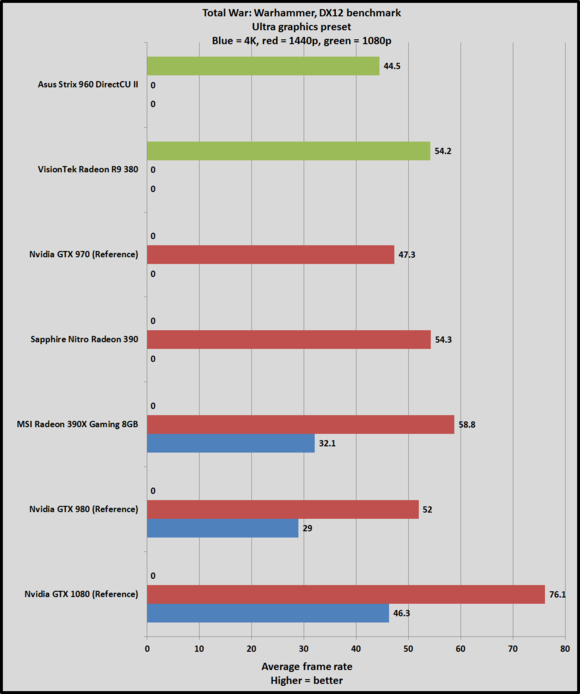 Total War: Warhammer DX12 benchmark results. Note: A zero fps score indicates that graphics card wasn't tested at that resolution. (Click to expand).
Now that the raw benchmarks are out of the way, with the Radeon cards beating their rivals across the board and the cutting-edge GTX 1080 destroying everything else (as expected), there's one other tidbit to mention. The frame rate fluctuation graphs that appear at the end of the benchmark show AMD's Radeon cards running more smoothly over the course of the scene…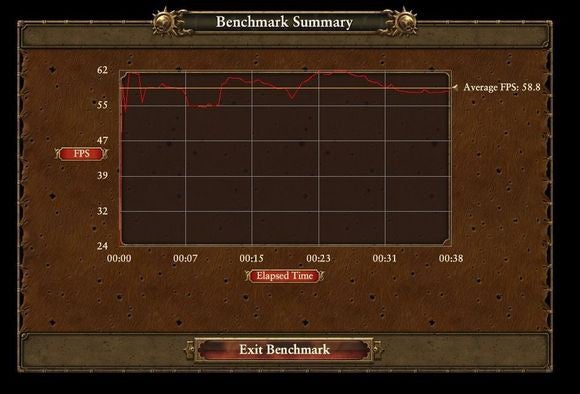 Frame rate fluctuations for the MSI Radeon R9 390X. (Click to expand).
…than their GeForce counterparts. Update: Pay close attention to the truncation of the Y-axis in those graphs, though; the scale isn't the same from picture to picture. (I don't see a way to disable the truncation in the benchmark options.) Though AMD cards still show less overall variation than GeForce GPUs, the difference isn't as drastic as the images seem to show at first blush.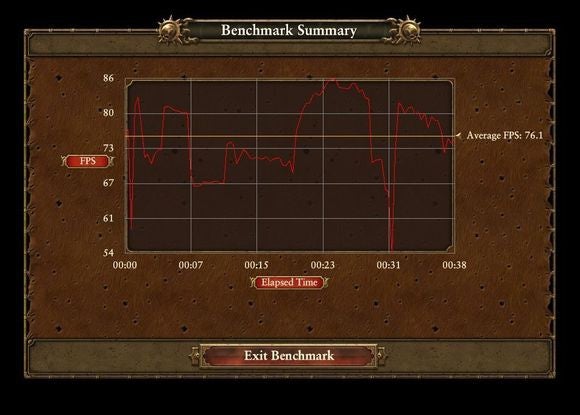 Frame rate fluctuations for the GTX 1080. (Click to expand).
A dedicated Total War: Warhammer driver from Nvidia could likely alleviate the problem somewhat, but it's unlikely to eliminate the gap completely. As a strategy title featuring dozens if not hundreds of on-screen units to keep track of, Total War: Warhammer—much like Stardock's superb Ashes of the Singularity—relies heavily on CPU utilization to process everything. Moving to DirectX 12 lets the game handle those commands much more efficiently, and Total War: Warhammer's DirectX 12 implementation leans on the dedicated asynchronous compute engine (ACE) hardware baked inside AMD's Graphics Core Next architecture.