Total War: Warhammer DirectX 12 performance preview: Radeon reigns supreme
Radeon wins across the board--but mind those caveats.
Creative Assembly's Total War: Warhammer ($60 on Steam) seems like nothing short of a love letter to geeks. This game blends the thrilling tactical action of the Total War series with the beloved Warhammer universe, and as if that wasn't nerdy enough, it will even be an early DirectX 12 title, with a DX12 patch planned to land sometime shortly after launch.
We're still in the process of reviewing Total War: Warhammer, which launches Tuesday, May 24. Spoiler alert: The switch from historical factions to fantastical ones breathes new life into the Total War series, both in atmosphere and mechanics. It's good!
But today, we want to give you a taste of what to expect when that DirectX 12 patch lands. While Creative Assembly's technical optimization blog has only said "We're really happy with the DX12 performance we're seeing so far, so watch this space!" AMD shot us a build of an automated Total War: Warhammer DirectX 12 benchmark to show what the game's capable of. Second spoiler alert: Radeon graphics cards come out on top against their GeForce opposites, as expected in an AMD Gaming Evolved title, but we'll get into that more later.
Total War: Warhammer DirectX 12 benchmarks
The automated benchmark lets you choose from a wealth of resolution and graphical options. We ran all tests on the Ultra preset, on PCWorld's test system with a fully patched version of Windows 10 installed.
The benchmark provided, dubbed "Empire vs. Greenskins," runs through a brief scene showing Total War: Warhammer's Empire and Greenskin factions locked in battle. When it's done, it spits out a results screen showing the average frame rate as well as a graph of frame rate fluctuations. Since the AMD-provided benchmark only runs in DirectX 12, we couldn't verify frame rates or times with a tool like FRAPS, which doesn't work with DirectX 12 yet.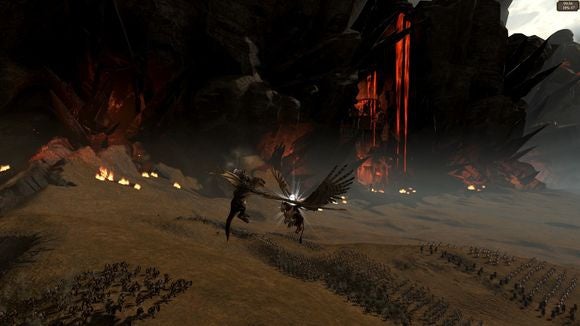 Part of the benchmarking scene, which mixes close-up and far-away views of the action.
That's not the only caveat to beware. Because we can't run the benchmark in DX11 mode, we have no idea how the frame rate results compare to standard DX11 performance for the game. Also worth mentioning: Nvidia's drivers typically outperform AMD's in DX11, so performance in that mode may well be tilted in Nvidia's favor. We don't know! Also, Nvidia hasn't released drivers optimized for the game, and DirectX 12 is only available in Windows 10.
Finally, performance results may very well change once the final DirectX 12 patch for Total War: Warhammer is released. This is based on unfinished code.
So you'll want to take these results with a big pinch of salt. All that said, we thought you'd be interested in seeing the early initial results.