Tom Clancy's The Division review: Bow before the Grind
What a grind.
And this is the problem with The Division as this MMO-lite junk food. Some true artistry has gone into the game's biggest moments—you'll remember I mentioned a firefight outside Grand Central as another highlight of the game.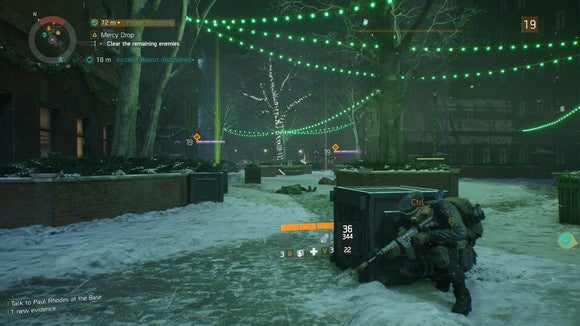 Once those prepackaged moments are over though you're dumped back into an empty city full of nothing, slave to a little orange line that directs you to the next place where something mildly interesting will happen. And so much of what it has to offer is forgettable: Collectibles. Boring side quests with little-to-no story padding. Lots of stop-and-pop cover shooting at enemies with too many layers of armor.
In your typical Ubisoft game, you ignore it. The whole Map-Littered-With-Icons trope is a Ubisoft calling card at this point and in Assassin's Creed or Far Cry or whatever I just blow past as much of it as I can and get back to the meat of the experience. This being an "RPG" though The Division forces you to engage with its most tired elements time after time in pursuit of bigger-and-better numbers.
The real shame is there's an inkling of a much better game on offer, or at least a more intriguing one. The heart of The Division, and the heart of its New York, is given over to an area called the "Dark Zone," a combination PVP/PVE region full of better gear and tougher enemies.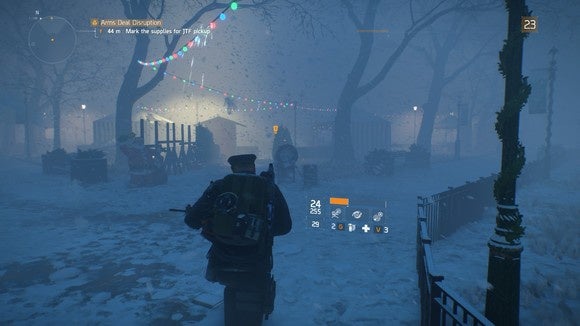 This is the actual "MMO" part of the game too, given that outside of the Dark Zone you can pretty much play the entirety of The Division without seeing another person. You're given the chance to join a group of four before every mission, which certainly makes the game both more challenging and more interesting—most of the skills you acquire pertain to team play, and you can chat about life (the universe and everything) during the more boring bits. But everything is instanced, so at best you're roaming around silent New York as a pack of four.
The Dark Zone is true multiplayer. In theory your goal is to kill the AI boss enemies on offer, snag some great loot, and then get out. Any loot you obtain in the Dark Zone is "Contaminated" though, so you need to (don't ask me why) airlift it out by helicopter. And while this is happening, anyone else can shoot you in the back and steal your newly-found gear, becoming a hunted "Rogue Agent" in the process.

Previous Page 1 2 3 4 Next Page