Tom Clancy's The Division review: Bow before the Grind
What a grind.
The game makes a half-hearted attempt towards telling a story about a smallpox epidemic ravaging New York City but, well, I pretty much just told you the whole story. It's the thinnest of setups and any attempt at storytelling post-introduction is not so much story as vignette.
Audio logs, for instance, here termed "Echos"—pale orange holograms of events that transpired, reconstructed (it's implied) from surveillance footage. They provide a window to this bleak world, but to no real purpose. They're collectibles. Side-content.The Division has nothing more interesting, more grandiose, to say than "Sometimes bad people do bad things."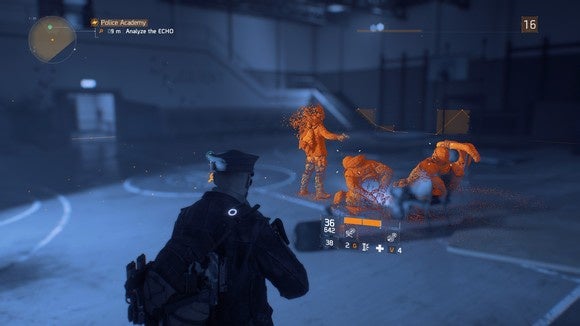 A handful of missions do stand out—particularly a series of standoffs (they're all a series of standoffs, really) in Times Square and outside Grand Central Station. Once again, Ubisoft's thousand-strong art team has turned out brilliant recreations of real-world locations. As with The Witcher 3, we could argue at length about perceived "downgrades" from E3 presentations, but the fact remains if you showed The Division to someone who ignores the hullabaloo of E3 marketing they'd say "That's a very pretty video game."
It's not just the landmarks. Subways and tenement houses and snow-covered streets in Chelsea have been given just as much care.
But the landmarks dominate this empty New York, and particularly Times Square—that most persistent symbol of a city that never, can never, will never sleep. Except now the power has gone out and Times Square has gone dark, reduced to so many greyed-out billboards and busted screens.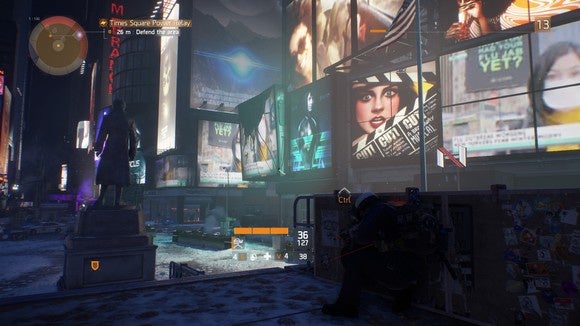 One mission charges you with turning the power back on (for some reason) and culminates with you coming under fire in Times Square just as the billboards roar back to life, darkened New York Streets suddenly giving way to blinding reds and yellows and "Look at me! Look at me!" advertisements.
It's a darkly surreal moment and in a better game would be a climactic bit of storytelling. But in The Division it is just one firefight among many, giving you the necessary experience to boost to the next level so you can leave Times Square behind and never return. It has no effect on the city. Nobody will ever mention it you. Nobody cares. Times Square is bright again, but New York doesn't notice.
Previous Page 1 2 3 4 Next Page