This is Tim: Apple's CEO on iPad sales, China, Beats, IBM, and more
Apple CEO Tim Cook discussed the company's Q3 numbers and much, much more in his remarks to analysts Tuesday. Here's what he had to say.
And so that makes us incredibly bullish that customers on those plans would be very likely to upgrade when we announce a new product.
On acquisitions and partnerships
We have a lot of really great people and I think we have the capability to acquire a sizeable company and manage it, and relative to IBM, I feel the same way. I think you can only do so many partnerships well, and it's unusual that we enter into a partnership. But in this particular case, I think arguably the companies are so complimentary. And I've gotten to know Ginni [Rometty, CEO of IBM] fairly well over the last couple of years, and I think we see the importance of the customer a lot of the same way and both feel that mobile and enterprise is just an enormous opportunity.
We're not competing with each other, and so I think a partnership in that case is particularly great.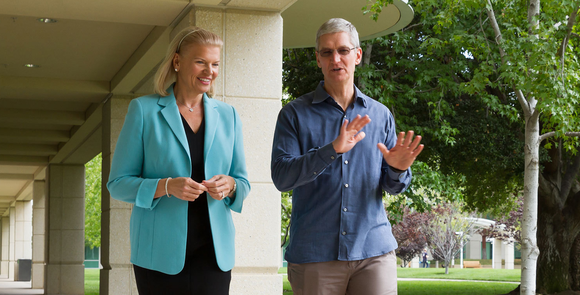 Would we do more of either of the things we did? We're always looking in the acquisitions space, but we don't let our money burn a hole in our pocket and we don't do things that aren't strategic. With Beats, we felt we were getting an incredible subscription service, a very rare set of talent that we think can do great things at Apple, and access to a very fast-growing business in their headphone and earphone space. And so culturally, we felt there was a match and music has been deeply embedded in Apple's DNA for many many years.
And so it was a great marriage, and I think the partnership with IBM is a great marriage as well. If more like that presented themselves, then I think that we can manage more things. I think we have a very, very strong executive team, and can do that. But it's not my goal to acquire a certain number of companies or spend a certain amount of money. We want to do things that help us make great products and are great for our customers, and so forth.
On IBM and analytics
We didn't talk about how the business model is going to work, but generally speaking I think that each of us have revenue streams in the Enterprise, and each of us win from having those revenue streams. And so that's our look at that. We win if we can drive that penetration number I spoke about from 20 to 60, that would be incredibly exciting here. The walls would shake! And so that's what I hope for.
Direct app sales to enterprise
We have no plans to change the rules with Enterprise. Some enterprises write proprietary apps that they do not want to offer to others, and so we obviously have a way for them to distribute those into their enterprise on just the employees that they want to, and so I'm not worried about changing that.
Previous Page 1 2 3 4 5 6 7 8 Next Page