This is Tim: Apple's CEO on iPad sales, China, Beats, IBM, and more
Apple CEO Tim Cook discussed the company's Q3 numbers and much, much more in his remarks to analysts Tuesday. Here's what he had to say.
The iPad
iPad sales met our expectations, but we realize they didn't meet many of yours. Our sales were gated in part by a reduction in channel inventory, and in part by market softness in certain parts of the world. For example, IDC's latest estimate indicates a 5 percent overall decline in the U.S. tablet market as well as a decline in the western European tablet market in the June quarter.
But what's most important to us is that customers are enjoying their iPads and using them heavily. In a survey conducted in May by Changewave, iPad Air registered a 98 percent customer satisfaction rate, while iPad mini with Retina display received an astonishing 100 percent customer satisfaction rate. The survey also found that among people planning to purchase a tablet within 90 days, 63 percent planned to buy an iPad, and our own data indicates that more than half of customers purchasing an iPad are buying their very first iPad.
Another recent study, by Custora found that iPad accounts for 80 percent of all U.S. tablet-based e-commerce purchases. We're very bullish about the future of the tablet market, and we're confident that we can continue to bring significant innovation to this category through hardware, software, and services.
We think our partnership with IBM, providing a new generation of mobile Enterprise applications, designed with iPad's legendary ease of use and backed by IBM's cloud services and data analytics, will be one such catalyst for further iPad growth.
Other partnerships and opportunities
Looking ahead, we are very excited about our agreement to purchase Beats Electronics and Beats Music. Music is part of Apple's DNA, and we think the addition of the Beats team will be great for music lovers. Beats provides Apple with a fantastic subscription music service, access to rare talent, and a fast-growing lineup of products that we can build upon.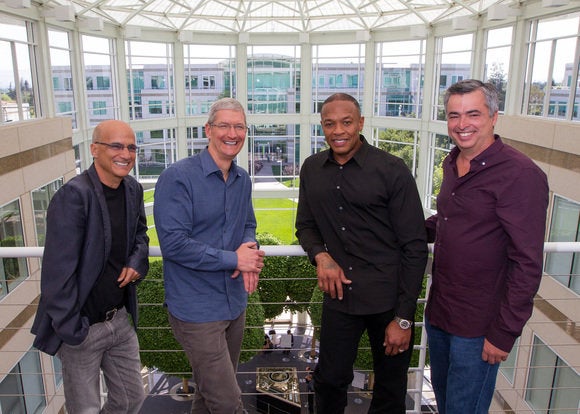 Not counting Beats, we've completed 29 acquisitions since the beginning of fiscal year 2013, including five since the end of the March quarter, and we've brought some incredible technology, and more importantly some incredible talent, into Apple in the process.
We're hard at work and investing heavily on exciting opportunities across our business, and we have an incredible pipeline of new products and services that we can't wait to show you.
On the iPad decline
If you sort of back up from this, the category that we created, which has been in a little over four years, we've now sold 225 million iPads. Which is, I think, probably a larger number than anyone would have predicted at the time, including ourselves, quite frankly. We still feel the category as a whole is in its early days, and that there's also significant innovation that can be brought to the iPad, and we plan on doing that.
Previous Page 1 2 3 4 5 6 7 8 Next Page