This is Tim: Apple's CEO on iPad sales, China, Beats, IBM, and more
Apple CEO Tim Cook discussed the company's Q3 numbers and much, much more in his remarks to analysts Tuesday. Here's what he had to say.
We've created a new tool for developers, called HealthKit, which lets health and fitness apps work together and empowers customers to choose what health data they share. We're taking the first steps in this area in collaboration with the Mayo Clinic, whose new app can automatically receive data from a blood pressure app, for example, and share it with a physician. Or a nutrition app can inform fitness apps how many calories are being consumed each day. Our own Health app will provide an easy-to-read dashboard of all health and fitness data.
We're enabling new ways to control lights, and doors, and thermostats, and other connected devices around the house using Siri, with the HomeKit feature of iOS 8.
And in the Enterprise, we're including new security, productivity, and device management features in iOS 8. We've forged a relationship with IBM to deliver a new class of mobile business solutions to Enterprise customers around the world. We're working together to provide companies access to the power of big-data analytics right on every employee's iPhone or iPad.
Using Swift, we'll collaborate to bring over 100 mobile-first apps to Enterprise clients, each addressing a specific industry need or opportunity. This is a radical step for Enterprise, and opens up a large market opportunity for Apple. But more importantly, it's great for productivity and creativity of our Enterprise customers.
From the pocket, to the car, to the workplace, home, and gym, we have a very large vision of what iOS can be, and we're incredibly excited about our plans.
The numbers
Turning to our financial results, today we're reporting record June quarter revenue thanks to the very strong performance of iPhone, Mac, and the continued growth of revenue from the Apple ecosystem. Our teams executed brilliantly during the quarter with earnings per share up 20 percent year-over-year, our highest growth rate in seven quarters. We sold over 35 million iPhones, setting a new third-quarter record. We generated healthy growth in our entry-priced, mid-tier, and lead iPhone categories. I'm especially happy about our progress in the BRIC countries, where iPhone sales were up a very strong 55 percent year over year.
We also had a record June quarter for Mac sales, with growth of 18 percent year over year in a market that is shrinking by 2 percent according to IDC's latest estimate. Demand has been very strong for our portables in particular, and we've had a great customer response to the new higher-performance, lower-priced MacBook Air.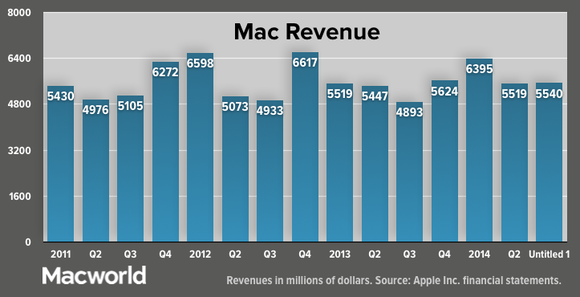 It was another strong performance for the App Store, and the other services contributing to the thriving Apple ecosytem. In fact, for the first nine months of this fiscal year, the line item that we call iTunes software and services has been the fastest-growing part of our business. iTunes billings grew 25 percent year-over-year in the June quarter and reached an all-time quarterly high, thanks to the very strong results from the App Store. We're continuing to invest in our incredible ecosystem, which is a huge asset for Apple, and a very important differentiator of our customer experience.
Previous Page 1 2 3 4 5 6 7 8 Next Page