Thinkpad Stack review: Lenovo's unique stackable peripherals are made for travel
The Stack is a great idea marred by a meh implementation.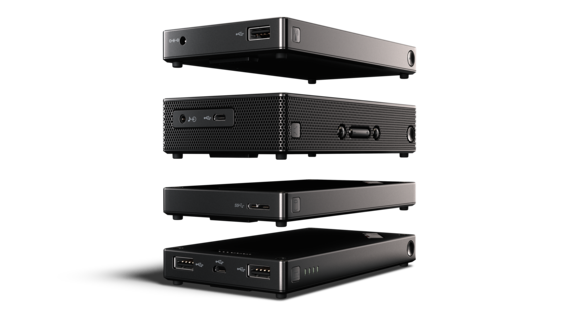 The act of connecting Lenovo's Thinkpad Stack peripherals, one atop the other, each one clicking into place via magnetic couplers, is very satisfying. Maybe I'm easy to please, but it's a pleasant tactile sensation. It's also a clever concept—handsome, stackable peripherals that tear down into miniature bricks that are super easy to store and travel with.
With such a winning design idea, you'd think nailing the particulars would be easy. But as they say, the devil is in the details, and my satisfaction with the Stack was short-lived.
Setting it up
The Stack system consists of four modules, identical in their measurements at three inches wide and just under six inches long. Thickness varies from about a half inch to a full inch, depending on function. Said functions are storing data (a 1TB hard drive), providing a personal Wi-Fi network (an 802.11ac router), powering the stack and charging your devices (a battery), and making noise (a Bluetooth speaker).
The modules are priced at $220 for the router and hard drive combo, which acts as an ad hoc NAS box; $70 for the battery; and $100 for the Bluetooth speaker. Though the hard drive and router are sold as a package, they may also be used separately, as may the battery and speaker.
Once the Stack was configured and updated, everything worked. But I experienced several minor issues, starting with the setup. I know wireless is the go-to for most people, but there's an Ethernet port on the router, so why can't it be used it to configure the unit? It's not that hard to dual-purpose (Internet and local) an Ethernet port.
Instead I had to go grab my iPad, then when the iOS app failed because a required button wasn't visible, I was forced to boot a Windows laptop to initialize the router. This involves connecting to the router's hotspot, downloading and installing the Stack Assistant, creating passwords, then setting the whole thing to operate. If you operate from a laptop as a matter of course, you can pretty much ignore that gripe.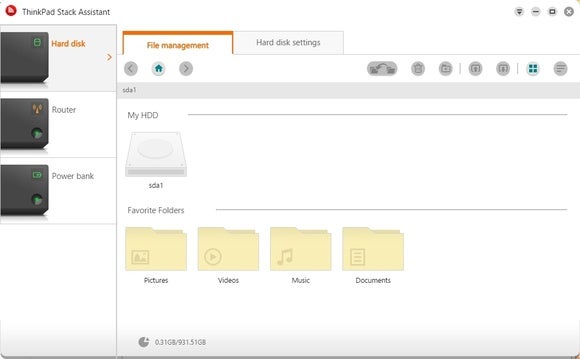 The Lenovo Stack Assitant helps you configure the router and work with files, and provides information on the status of the various modules.
I also have some quibbles with the design. Each module has a mating port on the top and bottom consisting of 14 exposed metal (magnetic) contacts. Fine. Except that the topmost port remains exposed. It's kind of ugly, and when I laid some DVDs on top of it, the red light on top of the uppermost module started to blink. That's Stack-speak for "I'm trying to join the stack now." How about a cap to cover the uppermost port? Quibbling? Perhaps. Perhaps not.